The Visitation Special Edition DVD
Information and images via the official site www.doctorwho.tv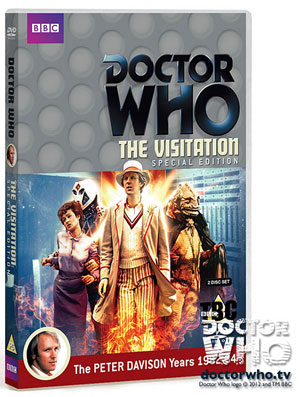 The Visitation Special Edition DVD
It's 1666, and medieval England is in the grip of the Great Plague.
But when the Doctor and his companions arrive, they discover an even greater threat: the entire planet is in danger.
As the Grim Reaper stalks the countryside, the Doctor uncovers an alien menace intent on wiping out humanity and claiming our planet for themselves.
The Terileptils have arrived – and only the Doctor can stop them…
Release dates
Region 1 – 6 May 2013
Region 2 – 6 May 2013
Region 4 – 24 April 2013
(Please note: release dates are provisional and subject to change)
Contents
Commentary with Peter Davison (the Fifth Doctor), Janet Fielding (Tegan), Sarah Sutton (Nyssa), Matthew Waterhouse (Adric) and director Peter Moffatt.
Grim Tales – Brand-new 45-minute documentary. Former companion Mark Strickson takes Peter Davison, Janet Fielding and Sarah Sutton back to the original filming locations while other cast and crew discuss their memories of the story.
The Television Centre of the Universe: Part One – Peter Davison, Mark Strickson and Janet Fielding return to BBC Television Centre and meet up with old friends and colleagues to reminisce on their time in the iconic building.
Doctor Forever: The Apocalypse Element – Examining the world of Doctor Who on audio. Including interviews with Colin Baker, Russell T Davies, Mark Gatiss and many others.
Film Trims Shots and sequences cut from the finished programme
Directing Who: Peter Moffatt
Writing A Final Visitation
Scoring The Visitation – Interview with composer Paddy Kingsland
Subtitle Production Notes
Radio Times listings and BBC Sales Sheet
Photo Gallery
Coming soon trailer
Isolated Music Score
Easter Egg
Digitally remastered picture and sound quality