Doctor Who Adventures issue 278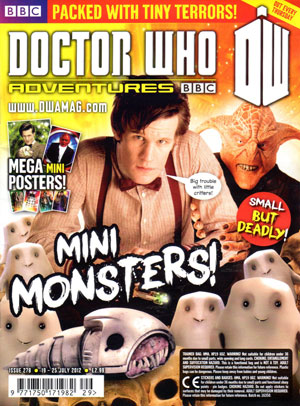 Doctor Who Adventures issue 278
First off, how cool is this mini magazine? I mean, it's totally intentional.
I was NOT playing around with the Teselecta's miniaturisation ray and blasted the magazine by accident or anything!
You can keep it safely in your trainer bay. And then you can put badges and stickers on that. Awesome. Beyond awesome. Moresome! Secondly, I've sort of managed to shrink myself, so please send for help. And for a teeny-tiny fez.
Thanks a lot!

Also inside…
*Read all about it
*Mini monsters
*Messelecta
*Creature feature
*Pocket science
*Bumble of destruction (comic)
*Doctor Doctor
*Ultimate Monster collection and more…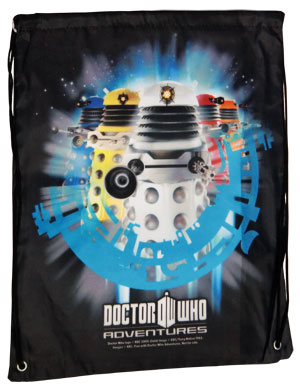 This weeks issue, priced £2.99, comes with trainer bag, stickers and badges.
Doctor Who Adventures is a weekly magazine for young boys and girls who love Doctor Who.
The magazine immerses readers into the world of the Doctor and his friends, taking them on an adventure into time and space every week!
It is packed full of monster and creature fact files, brilliant posters, behind-the-scenes secrets, competitions, comic strip action and puzzles.
There's always loads of excitement, action, adventure and fun! Doctor Who Adventures is a must-have for young fans of the successful BBC series! This magazine is written for and aimed at children in the 6-12 years old age range. It is specifically targeted at a core age group of 7-8 year olds.
If you are interested in subscribing, or to see various offers on the Magazine go to the BBC Doctor Who Adventures page Here. You will never miss an issue and its delivered straight to you.
Next weeks issue comes with a set of playing cards and Monster invasion cards.
Front and back of this weeks "mini mag" with last weeks issue…