Doctor Who: Serpent Crest Pt 2 – Broken Crown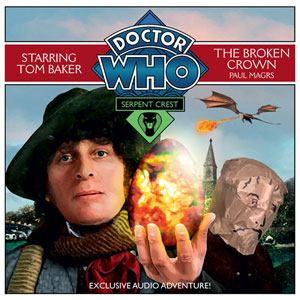 Doctor Who: Serpent Crest Pt 2 – Broken Crown
Paul Magrs
Tom Baker stars in a brand new 5 part audio adventure for the 4th Doctor, with Susan Jameson as Mrs Wibbsey.
Trapped in 19th Century Hexford, the Doctor and Mrs Wibbsey discover that all is not well at the rectory – and that there is more to its residents than meets they eye.
Due for release on 06 October 2011.
Part 3 due 3rd November…
Trapped in an underground network of tunnels, the time travellers help a young boy in search of an ancient lamp. Perils await them on their quest to find both the lamp and a way out…
Parts 4-5 due 8th December