Doctor Who Authors at Forbidden Planet + Signed Books
Signed books are available to order from www.forbiddenplanet.com
Join Mike Tucker, Jonathan Morris and Cavan Scott signing their latest DOCTOR WHO novels at Forbidden Planet Bristol on Saturday 22nd April from 1 – 2pm!
In Mike Tucker's Diamond Dogs, it rains diamonds on Saturn. For over fifteen years, the crew of the Kollo-Zarnista Mining Facility 27 has been extracting diamonds from deep within the planet's atmosphere, diamonds that help run the ever-expanding human atmosphere. But when a mining operation goes wrong, a rescue mission must be launched.
In Jonathan Morris's Plague City, the year in 1645 and Edinburgh is in the grip of the worst plague in its history. Nobody knows who will be the next to succumb – nobody except the Night Doctor, a masked figure that stalks the streets, seeking out those who will not live another day.
In Cavan Scott's The Shining Men, being scared is the least of your worries. The Shining Men are everywhere. You spot them out of the corner of your eye. Abnormally tell, with long lank hair, blank faces and blazing eyes. If they catch you, they'll drag you away to who knows where. They're on every street corner. No-one is safe.
All three novels feature the Twelfth Doctor, as played by Peter Capaldi, and Bill, as played by Pearl Mackie.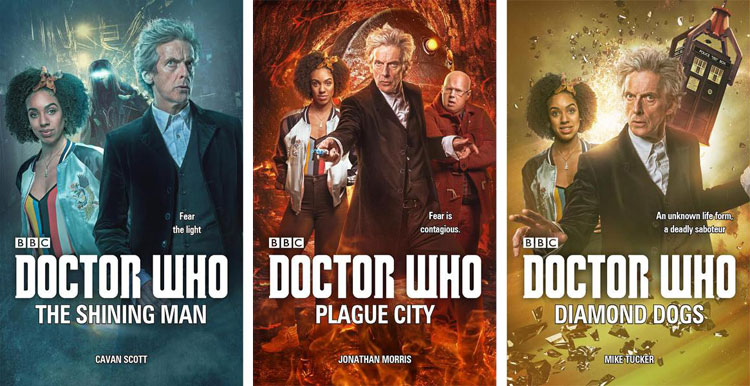 FORBIDDEN PLANET
Forbidden Planet is the largest store of its kind in the world. Some of the biggest names in SF, Fantasy and Cult Entertainment have come to our London Megastore for events, including Jonathan Ross, Kevin Smith, Sam Raimi, Guillermo del Toro, John Landis, Terry Gilliam, Christopher Lee, Simon Pegg, William Gibson, Neil Gaiman, Terry Pratchett, and Stephen King.