Web of Fear Breaks Doctor Who Classic DVD Sales Record
Web of Fear Breaks Classic DVD Sales Record
Doctor Who: The Web of Fear is the biggest selling classic Doctor Who title in its first week of sales in the UK, BBC Worldwide confirmed today. Approximately 15,000 copies were sold in that period, as The Web of Fear replaced Doctor Who: The Enemy of the World at the top of the week one classic Doctor Who charts.
Both of the top two titles were believed lost forever but were returned to the BBC in 2013 sparking celebration among fans of the world's longest-running sci-fi drama and global media interest. Unseen in the UK for over 45 years, they were discovered in a relay station in Jos, Nigeria by TV archive specialist Phillip Morris, before being lovingly restored by the Doctor Who restoration team in the UK. They were subsequently released on iTunes, and The Web of Fear was released on DVD on Monday 24th February 2014. 300 fans gathered to enjoy a marathon screening of the two stories at the Prince Charles Cinema in London to celebrate the release of The Web Of Fear on 22nd February.
Fiona Eastwood, Director of Consumer Products at BBC Worldwide said, "We knew that The Web of Fear would be a popular release; Yetis on the London Underground – need I say more? There's a real appetite for exploring the extensive back-catalogue of classic stories, particularly following the 50th anniversary last year, and we're committed to continuing that exploration for Doctor Who fans in the future."
These figures continue a successful year for Doctor Who DVDs, with strong sales across the classic range and contemporary releases alike. The 50th anniversary special The Day of the Doctor achieved the biggest ever week one sales for a Doctor Who title when it was released in December 2013.
---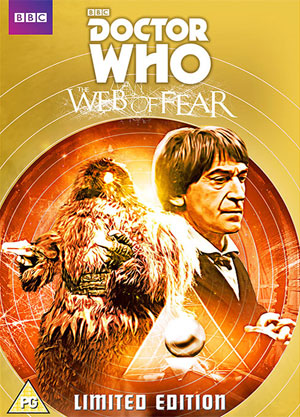 Doctor Who: Web of Fear – BBC Shop Limited Collector's Edition Slipcase
Now updated with a BBC Shop exclusive slipcase cover to match the style of Doctor Who: Enemy of the World Exclusive DVD.
The second serial in the infamous "missing episodes", recovered from far flung TV out-posts and lovingly remastered and pressed to disc for you to collect and keep, Web of Fear sees the second Doctor (Patrick Troughton) meet Colonel Lethbridge-Stewart, who goes on to be known as the Brigadier, for the first time.
Featuring robot Yeti, London Underground, The Great Intelligence and of course companions Jamie (Frazer Hines) and Victoria (Deborah Watling), this recovered story arc was deemed so scary that it was preceded by the following message, delivered by the Doctor sitting in one of the London Underground sets and saying:
'Thank goodness… Oh, it's you… I thought for one moment it was… I'll just sit down for a minute.
I'm glad I met you as a matter of fact; there's something I want to tell you.
'When we start out on our next adventure – Jamie, Victoria and I – we meet some old friends.
Yes, and we also meet some old enemies. Very old enemies.
The Yeti as a matter of fact. Only this time they're just a little bit more frightening than last time.
So I'll warn you that if your Mummy or Daddy are scared, you just get them to hold your hand.
[sound of gunfire]
'Here we go again. I've got to go. See you soon – I hope!'
So you have been warned – sofas may be required for hiding behind and hands may get a little squeezed. Secure your copy of this lost classic today.
Available to order exclusively from www.bbcshop.com
---