Toys R Us 11th Doctor with Dalek
Toys R Us 11th Doctor with Blue Strategist Dalek from Asylum of the Daleks
You can Order the available Doctor and Dalek exclusive sets from www.toys r us.co.uk
now (Search Doctor Who Twin pack). Get Free Delivery when you spend £29.99 or more.
By his own admission, the Eleventh Doctor is a genius and a madman. He has the same sparking intelligence as his predecessors but it seems to be firing in every direction at once.
He has the curious innocence of a child mixed with the ancient wisdom of the centuries, and leaves everyone around him racing to keep up. He can seem clumsy and chaotic but only a foolish enemy would underestimate him. As always he has a powerful sense of right and wrong and a determination to do what's right.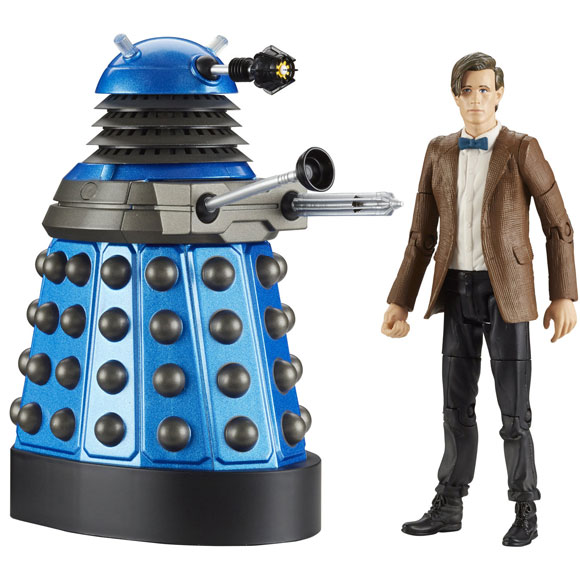 Sets include the following…
1st Doctor with Supreme Dalek from The Daleks Master Plan
2nd Doctor with Guard Dalek from Evil of The Daleks
3rd Doctor with Dalek from Planet of The Daleks
4th Doctor with Dalek from Genesis of The Daleks
5th Doctor with Dalek from Resurrection
6th Doctor with Dalek from Revelation
7th Doctor with Renegade Dalek from Remembrance of The Daleks
8th Doctor with Dalek Alpha from Children of the Revolution
9th Doctor with Imperial Guard Dalek from Parting of the Ways
10th Doctor with Crucible Dalek
11th Doctor with Blue Strategist Dalek from Asylum of the Daleks
Sets currently available to order. Click on the image for full details…
If you are in the USA the 1st wave of 3 can be ordered from www.entertainmentearth.com