Rubbertoe Spinning Tardis Replica
Available to order while stocks last from www.rubbertoereplicas.com
Rubbertoe Replicas is pleased to offer this beautiful replica of the spinning mini semi-transparent Tardis that can be found on the console of the current series 11 Tardis. As soon as we saw the little spinning Tardis on the new Tardis console here at Rubbertoe HQ, we knew we had to make a replica; we have made it so you spin it yourself, so not only is it a very cool replica, it's also the best fidget toy ever (WARNING: SPINNING YOUR MINI TARDIS MAY BE ADDICTIVE!).
Made from the same CAD file as the original prop, the Spinning Tardis looks absolutely beautiful, especially when it is lit up from underneath by it's white 5 volt LED lights. The lights are powered by a USB cord (which comes already wired up), and can be connected to a power source such as a computer or laptop.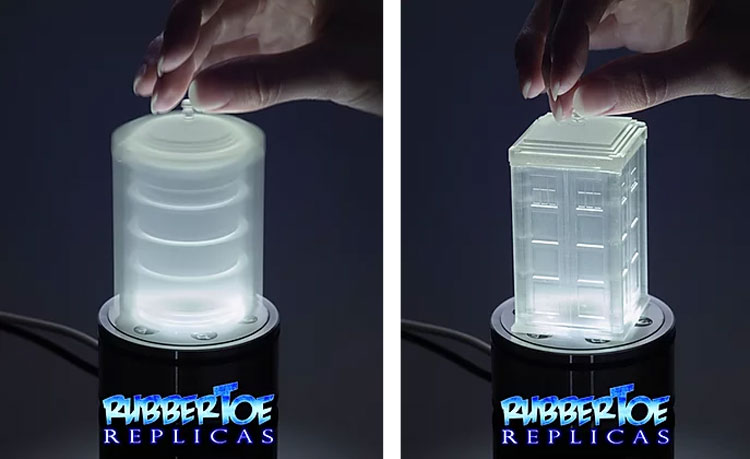 We have used a little creative license for the metal base as it was made from an old computer fan from the Doctor Who prop store, so we have made our own version. We think it's even cooler now as we have added some Gallifreyan symbols at the bottom to replace what would have been merely holes in the original base. An amazing display piece, as well as something you can get your hands on and play with, the Spinning Tardis is a must have for any Doctor Who fan!