Dr Who Figurine Collection Special 19 Drathro
Available to order from www.shop.eaglemoss.com
Also available to order while stocks last from www.forbiddenplanet.com
One for all you Whovians out there! The mighty Drathro, "the immortal", from the epic sixth Doctor adventure from 2086 (played by Colin Baker), 'The Trial of a Time Lord' joins the Doctor Who Figurine Collection.
We've seen many robots in Doctor Who, and Drathro stands shoulder to shoulder with some of the giants in the series' history. Alongside Experimental Prototype K1, the robot-like Krotons, and the malevolent War Machines, the L3 robot showcases innovation from the BBC's visual-effects department at its best, with a design that looks impossibly alien and incredibly powerful.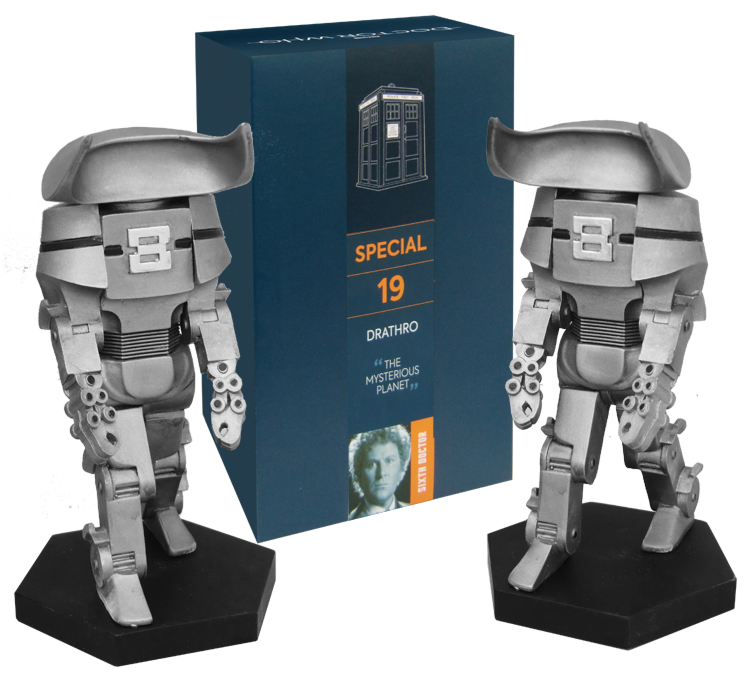 This impressive looking figurine of the robot Drathro stands approximately 13 cm tall, we have recreated Drathro, the L3 robot, to specific standards capturing his iconic his wide horn-shaped head.
Plus a 20-page magazine featuring the leader of 'Marb Station', one of the last vestiges of humanity on a world that looks suspiciously like planet Earth!
This magnificent Drathro figurine from Doctor Who is a must have for any fan of this long-running sci-fi tv series.