Doctor Who Series 1 and 2 12 inch Vinyl
LIMITED TO ONLY 500 COPIES
DOUBLE LP IN A GATEFOLD SLEEVE.
This is the first release of music from the series revival and includes the acclaimed new version of the theme.
Neil Hannon (The Divine Comedy) performs two songs, Song For 10 from 2005's Christmas Special and Love Don't Roam from The Runaway Bride, broadcast as the key BBC programme for Christmas Day 2006. Murray Gold is one of the most powerful British composers working in film and TV with successes including Alien Autopsy, Casanova, Shameless and Mischief Night.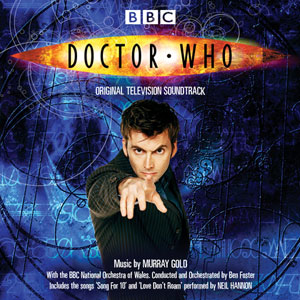 Over 75 mins of music from the two new Doctor Who TV seasons
Released in shops 19th August 2013
Tracklist (for 12″ vinyl):
SIDE A
1. Doctor Who Theme – TV Version
2. Westminster Bridge
3. The Doctor's Theme
4. Cassandra's Waltz
5. Slitheen
6. Father's Day
7. Rose In Peril
8. Boom Town Suite
9. I'm Coming To Get You
10. Hologram
11. Rose Defeats The Daleks
12. Clockwork TARDIS
SIDE B
1. Harriet Jones, Prime Minister
2. Rose's Theme
3. Song For Ten
4. The Face of Boe
5. UNIT
6. Seeking The Doctor
7. Madame de Pompadour
8. Tooth and Claw
SIDE C
1. The Lone Dalek
2. New Adventures
3. Finding Jackie
4. Monster Bossa
5. The Daleks
6. The Cyberman
SIDE D
1. Doomsday
2. The Impossible Planet
3. Sycorax Encounter
4. Love Don't Roam
5. Doctor Who Theme – Album Version