Doctor Who Adventures Issue 231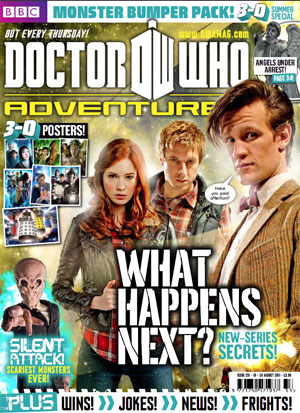 Doctor Who Adventures Issue 231
Wow! Isn't 3-D brilliant? Of all the different dimensions, three is my absolute favourite. It's so inny and outy!
There's a massive wodge of 3-D posters in this issue, plus your one-stop guide to all the unsolved mysteries from my most recent adventures.
So you'll be up to speed before I'm back on your telly set very, very soon!
I can't wait.
Can you?

Also in this issue…
*Back in time
*The story so far
*The Doctors quiz
*The upper deck (comic adventure)
*Monster mash-up
*only one K9 an much more…
Don't forget to check out the Doctor Who Adventures website www.dwamag.com to keep up to date with the very latest news from the Time Lord.
Issue 231 comes with an amazing 14 free gifts including 3d poster and glasses, puzzle game, Tardis keyring,flesh slime pot and more…