Doctor Who Adventures 188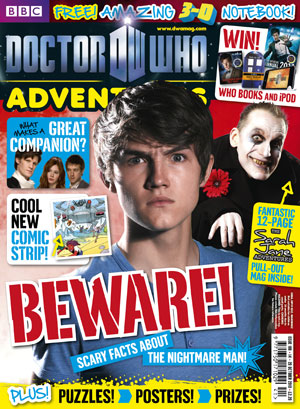 Doctor Who Adventures 188
This week's issue of Doctor Who Adventures comes with a fantastic12-page pull-out mag all about the new series of The Sarah Jane Adventures, in which we reveal some of the secrets in the next episode, and have an exclusive interview with actress Elisabeth Sladen!
What makes a great companion? Have you got what it takes to travel with the Doctor? Find out in this week's fact file.All this, plus: a free 3-D notebook, great posters and a huge puzzles and jokes section.
Issue 188 of Doctor Who Adventures magazine is out on Thursday 14 October, price £2.20
Don't forget to check out the Doctor Who Adventures new website www.dwamag.com to keep up to date with the very latest news from the Time Lord.