Dark Bunny Exclusive 50th Anniversary Tees
Dark Bunny Tees Create Exclusive T-shirts for 50th Anniversary of Doctor Who
Cult-favourite t-shirt designers Dark Bunny Tees have joined with BBC Worldwide in an exciting new partnership to create an exclusive range of Doctor Who t-shirts that will mark the 50th anniversary of the much-loved show. Doctor Who will follow in the footsteps of some of the biggest names in science-fiction when the range goes on sale; Dark Bunny Tees have previously created designs inspired by Back to the Future, Alien and Shaun of the Dead.
Only 650 t-shirts are available to purchase per design, creating a truly limited edition piece of TV and film memorabilia. For Doctor Who, Dark Bunny Tees have created a t-shirt per episode from Series 7: Part 1 and depict designs such as Oswin's Souffle Cell, Weeping Angels Retirement Home and Team Cube.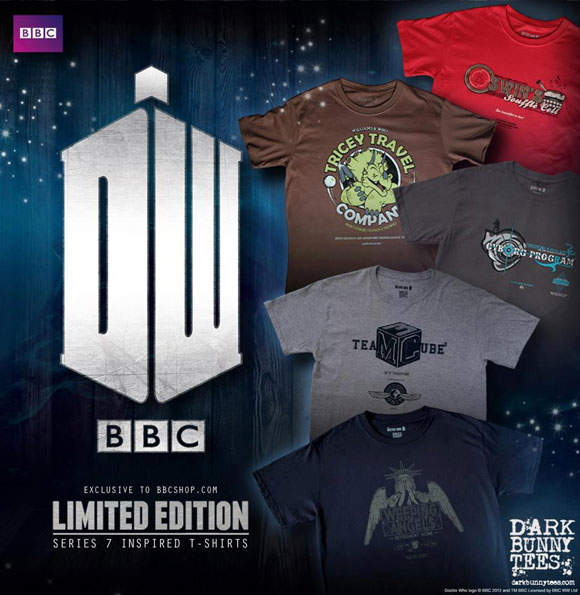 Alex Chenery comments "Taking the amazingly rich world of Doctor Who and injecting my unique 'Dark Bunny Tees' spin to create a series of limited edition designs was such an honour to do. It is an amazing opportunity for Dark Bunny Tees and a collaboration with BBC Worldwide that will continue throughout 2013 and the 50th Anniversary of Doctor Who. Some very special projects and designs will also become available exclusively through the Dark Bunny Tees website."
Maxine Lister, Brand Licensing Manager for Doctor Who at BBC Worldwide adds, "We're really looking forward to working with Dark Bunny Tees on this inventive new range. 2013 is set to be a special year for Doctor Who fans everywhere and I hope fans are as excited about this collection of t-shirts as I am. We're already working on further ranges to celebrate the 50th anniversary of the TV series, so stay tuned for more announcements!"
The first 5 LIMITED EDITION designs, which have been inspired by the first 5 episodes of Series 7, are now available to pre-order exclusively through the BBC Shop.