Doctor Who Terror of The Zygons DVD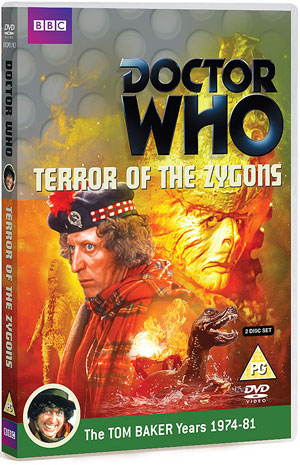 Terror of The Zygons DVD
Another adventure for everyone's favourite time-traveller. Answering the Brigadier's space/time telegraph, the Doctor (Tom Baker), Sarah and Harry arrive in the village of Tulloch, near Loch Ness.
A series of attacks have taken place on local oil rigs, and many are blaming the legendary monster. The Doctor discovers the creature to be the Skarasen – cyborg pet of invading aliens the Zygons.
Their own planet having been destroyed and their spaceship crippled, these deadly shape-shifters are now intent upon taking control of the planet Earth.
Available to order now from www.bbcshop.com
---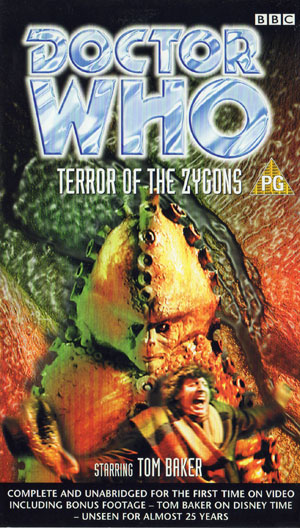 Original VHS cover and information
When the Doctor, Sarah and Harry arrive in Scotland, having received an urgent request for assistance from the Brigadier, they discover that the mysterious force which has destroyed three oil rigs has left giant teeth marks on the wreckage.
The mystery deepens leading them to the shores of Loch Ness where they find that the legendary monster really does exist – and if s the murderous tool of the Zygons, aliens intent on overpowering the planet.
The Doctor and his companions must find a way to defeat the deadly Loch Ness Monster and its controllers, but the Zygons have the terrifying power to change shape and the Doctor is in grave danger when he finds that his friends and allies are not always what they seem…
This action-packed and atmospheric adventure was originally transmitted 30 August- 20 September 1975.
Includes special bonus footage – Tom Baker on Disney Time, originally broadcast 25 August 1975.