The Krotons Soundtrack CD and 10″ Vinyl
The Krotons Soundtrack CD and 10″ Vinyl
Silva Screen Records Presents Doctor Who -The Krotons
The second archive release of a Doctor Who soundtrack since the Doctor Who 2005 British TV comeback, featuring a collection of 'special sounds' by British electronic composer Brian Hodgson.
Doctor Who – The Krotons is a 4 episode Doctor Who serial first broadcast in weekly parts from 28 December 1968 to 18 January 1969.
Brian Hodgson was a member of the BBC Radiophonic Workshop and worked closely with Delia Derbyshire, the seminal figure of English electronic music. As the original sound effects creator for Doctor Who he was responsible for the chilling Dalek voices and the powerhouse sound of the Tardis lifting off. Brian created The Tardis sound in 1963, running a back door key for his mother's house along the bass string of a dismembered piano and treating it electronically. The sound of The Tardis lift-off is still in use. Brian comments: "I spent a long time in planning the Tardis sound, I wanted a sound that seemed to be travelling in two directions at once; coming and going at the same time."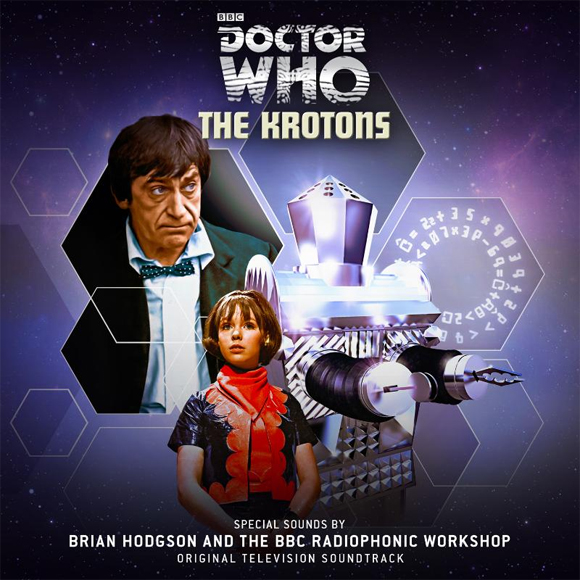 The collection displays Brian's highly innovative techniques that, together with Delia Derbyshire's experiments in modes and tunings, became the staple of British electronica. The 1963 Doctor Who Theme kicked off the Golden Age of the Radiophonic Workshop.
Brain Hodgson says of his work: "I never used to call the stuff I made myself 'music'. I was more interested in what I called the theatre of sound. I was creating atmospheres that were not conventionally music in their form. Nobody sat down to create a piece of formal electronic music, it was always a contribution to enhance a radio or television programme. I think that's what gave the Workshop its vivacity."
CD: SILCD1371
Digital album: SILED1371
Release date: 13th May 2013
Tracklisting:
1. Doctor Who (New Opening Theme, 1967)
2. The Learning Hall
3. Door Opens
4. Entry Into The Machine
5. TARDIS (New Landing)
6. Wasteland Atmosphere
7. Machine And City Theme
8. Machine Exterior
9. Panels Open
10. Dispersal Unit
11. Sting
12. Selris' House
13. Machine Interior
14. Snake Bleeps Low
15. Silver Hose (The Snake)
16. Snake Bleeps High
17. Teaching Machine Hums
18. Forcefield
19. Burning Light
20. Birth Of A Kroton
21. Kroton Theme
22. Kroton Dies
23. Link – Rising Hum
24. Kroton Dies (Alternative)
To keep up to date with future announcements throughout the year, you can sign up to their special mailing list at www.doctorwhomusic.com