SFX Magazine Issue 256
SFX 256 is here, delivering even more festive cheer than Noddy Holder's lungs. We're all over the Doctor Who Christmas special, on top of DC's movie revolution and gift-wrapping the usual SF, horror and fantasy news and reviews. It's Christmaaaaas!
Get your copy now! Buy your digital issue via Newsstand For iPad, iPhone or iPod Touch, or order your print copy from My Favourite Magazines.
Also available on Google Play, Zinio, and Nook!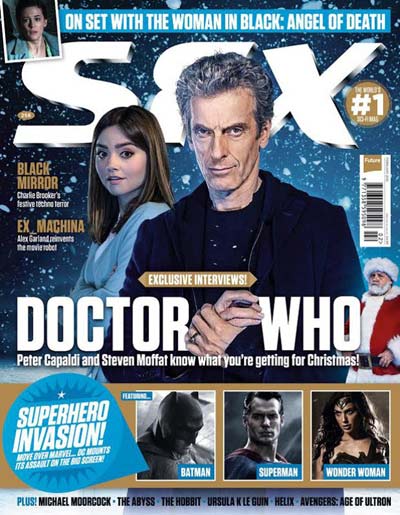 RED ALERT

We talk to Alex Garland about provocative new cyber-fable Ex Machina, find out how Star Wars is returning to comic books and discover Guardians Of The Galaxy helmer James Gunn's SF faves
DOCTOR WHO: "LAST CHRISTMAS"
Total coverage of this year's Doctor Who Christmas special: Steven Moffat, Peter Capaldi, Nick Frost and special guest elf Dan Starkey tell us all about the Time Lord's logic-boggling encounter with Santa…
BUILDING THE DC MOVIE UNIVERSE
DC prepares to go fist-to-fist and flick-to-flick with Marvel, declaring a blitzkrieg of big screen superhero action. SFX gives you the full lowdown and some expert analysis.
BLACK MIRROR
Fancy something a little more Crueltide than Yuletide? Charlie Brooker's here to darken and disturb your merriment with the Black Mirror Christmas special.

MICHAEL MOORCOCK
SFX speaks to one of the grand old men of British SF on the eve of his 75th birthday. Contains frank discussion of shooting at people at dinner parties.
REVIEWS
The Hunger Games: Mockingjay Part One awaits judgement alongside The Woman In Black: Angel Of Death and Birdman. Plus: Doctor Who Series Eight on Blu-ray and DVD and The Galaxy Game by Karen Lord line up for some hard but fair marking.