Rubbertoe 11th &12th Sonic Tardis Docking Port
Available to order from www.rubbertoereplicas.com
How do you display your 11th or 12th Doctor's Sonic in the coolest way possible? In a Tardis docking port, that's how!
Viewers may remember the iconic scene at the end of series nine, where the Tardis creates the 12th Doctor's epic new sonic; this amazing sonic stand is based on the docking port shown in this scene (although Matt Smith's 11th Doctor used it for a while too). The docking port part of the Tardis console was originally made by our good friend and sometime colleague, Alun Hardy.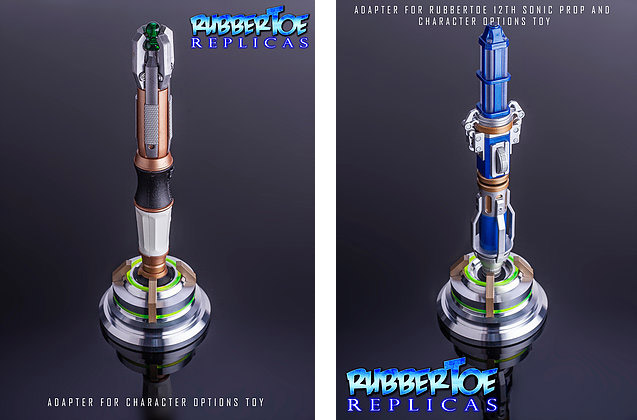 The Tardis Sonic Docking Port is made from solid aluminium & perspex. On it's own, the The Tardis Sonic Docking Port holds the Rubbertoe 11th Doctor's Sonic Replica, the Rubbertoe Custom Sonics, and the Wand Company 11th Doctor's Sonic Remote.
However, thanks to it's clever little inserts, you can also dock the Rubbertoe Replicas 12th Doctor's Sonic Replica, as well as the CO toy versions of both sonics.