Monster Invasion Extreme Card Finders List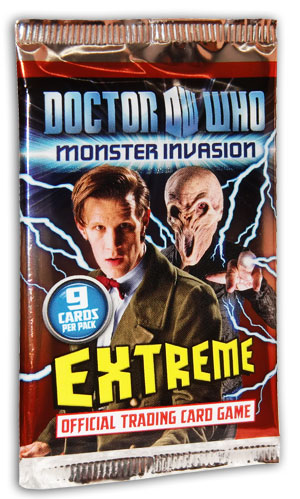 Doctor Who Monster Invasion Extreme Card Finders List

You can download this list as a spreadsheet by clicking Here.
With thanks to Squigs
With the arrival of Monster Invasion Extreme Cards in shops and magazines, you can post your "finds" in the comments below to let others know what we can expect in this range.
If you are going to take part please post the names of the cards, its type and number.
If you wish to send in images please sent them to m6rmw@aol.com.
Obviously the new magazines are due on Wednesday so it will only be a day before we will probably find out the full list anyway.
Issue 11 goes on sale on the 28th September.
Cards so far…
166 The Doctor's Ganger Common Doctor
167 – Attack of the Cybermen Sixth Doctor- Common
168 Warriors Of The Deep 5th Doctor (Doctor- Common)
169 4th doctor common
172 8th doctor common
170 – The End of Time Tenth Doctor -Common
173 – The Big Bang Exterminated Eleventh Doctor – Common
174 Amy's doctor dolls, Doctor, Common,
175 footie doctor
176 – The Family of Blood John Smith – Common
178 prisoner zero doctor, doctor,
179-3rd Doctor (common)Doctor
182 Dalek Drone Rare Villan
183 minotaur villain, common
184-Alaya-Villan-Super Rare 3d
185-Madame Kovarian-Villan-Common
187 lazarus, villian,
189 Mels Zucker, Villain, Common,
190 Dalek Scientist, Villain, Super rare 3d,
191-Cyberking(common/slamdown)Villain
192 the beast villain, common
193 cassandra villain, common
194 – The Parting of Ways Emporer Dalek – Common
195 – The Doctors Wife Nephew – Super Rare 3D
197- The Almost People Foreman Cleaves's Ganger – Common
199-Cybercontroller (rare)Villain
200 river song common villain
201 Amy Peg Doll (Villain- Common)
200 – Lets Kill Hitler River Song – Common
202 emperor dalek common
203 – The Vampires of Venice Francesco –
206 – Night Terrors George Tenza – common
207 Rorybot Common Doctor's Ally
208 toby avery common
210 – The Curse of the Black Spot Boatswain – Common
211 – The Rebel Flesh Dicken – Common
213-The Face Of Boe(common)Ally
214 rita
216 – The Stolen Earth Wilfred Mott – Common
217 The Last Centurian (Ally- Common)
219.Pirate Amy Common
220 buzzer, ally,
221 – Day of the Moon Melody Pond – Rare
222 Donna Noble: Doctor's Ally, Common
223-Ace-Ally-Common
224 older amy Doctor's Ally, Common
226 captain avery rare
228 jimmy
230 gibbis doctors ally, common
231 the siren doctor's ally, rare
232 – The End of the World The Moxx of Balhoon – Common
234 Foreman cleeves, Doctor's ally, Common,
237 – The Pandorica Opens Autom Romans – Common
240 Sisters Of The Water Common Monster
241 Patchwork People: Monster, Common
242 reapers common
243 Regenerating Angels, Monster, Common,
245 – Warriors of Kudlak Vdodni – Common
246 Blathereen, monster,
247 daleks common
248 toclafane rare monster
249 Clockwork Robots: Monster, Common
250 – The Doctors Daughter Hath – Common
251 – The Family of Blood The Family of Blood – Common
253 Anti-Bodies: Monster, Rare
254 Ogrons (Monster- Common)
255 autons, monster,
256 silent monster super rare 3d
258 – The Waters of Mars The Flood – Rare
259 – The Shakespe
260 sontarans common monster
261 New Daleks Common (Slamdown) Monster
262 Imperial Daleks (Monster Battle- Common)
264 sibylline sisters monster , common
265.Royal Guards Common
266 – Blink Dormant Angels – Common
267 pig slaves monster, common
268 – The Seeds of Doom Krynoids – Common
269 futurekind common
270 Master Race Common Monster
271 Sycorax: Monster, Common
272 – Goodybye, Sarah Jane Smith The Dark Hoarde – Common
273.Time Beetle Common
274 – The Rebel Flesh Gangers – Common
275 handbots monster rare
276 headless monk monster super rare
277- Peg Doll Soilder (common)Monster
278 – Time Lord Psychic Containers – Ultra rare
279-Mr Smith-Gadget-Common
280 – The Pandorica – Rare
281 the valiant, gadget,
282 genesis ark common gadget
283 – River Songs Diary – Common
284 – Junk Taris – common
285 – Sonic Cane – Common
282- Genesis Ark(common)Gadget
288 astronaut suit gadget rare
290 Burnt-Out Sonic Screwdriver: Gadget, Common
291 Cryo-Cylinders, Gadget, Common,
292 nano recorder
293 – The Doctors Crib – Rare
294.Sonic Probe Common
296 – Thrasymachus – common
297 Sleeping silence, Adventure, Common,
298 – Auton attack – common
299 Peg Doll Surprise: Adventure card, Common
300 Alien Bogies Common Adventure
301 Doctor In Disguise (Adventure- Common)
303 for shark scare common
304.Silent Attack Common
305 – Time Loop – Common
306-Fang Fright(common)Adventue
307 – Melody Regeneration – Common
308-Prisoner of the Zygons-Adventure-Common
309 angry siren, adventure,
310 ganger strech, adventure,
312 sting scare anventures card common
313 – Hitler Punch – Common
314 Cyber Invasion, Adventure, Common,
315 – Master Revenge – Common
316 Invisible Enemy: Advenure card, Common
317-River's Secret-Adventure-Rare
318 peg doll horror adventure card common
319 sea devils rising
320 – Ganger Goo – Common
321 Stone Dalek Blast (Adventure- Common)
322- Junk Tardis(common)Adventure
323 – River Leap – Common
325 Solar Tsunami (Adventure- Rare)
326.Rory Capture Common
327 Strax Attack: Adventure card, Common
328 – Handbot Danger – Common
329 – Angel Warning – Common
330 – Singh Suckered – Common
331 matrix power adventure card, common
332 the first daleks, adventure, rare
333 Master Regeneration (Adventure- Common)
334 mystery hatch common
335 – Silence Shoot Out – Common
336 monstrous mouth
337 the last centurian common
339 – Genesis Ark – Common
343 – Handbot Battle – Common
343 Brethren Attack Common Adventure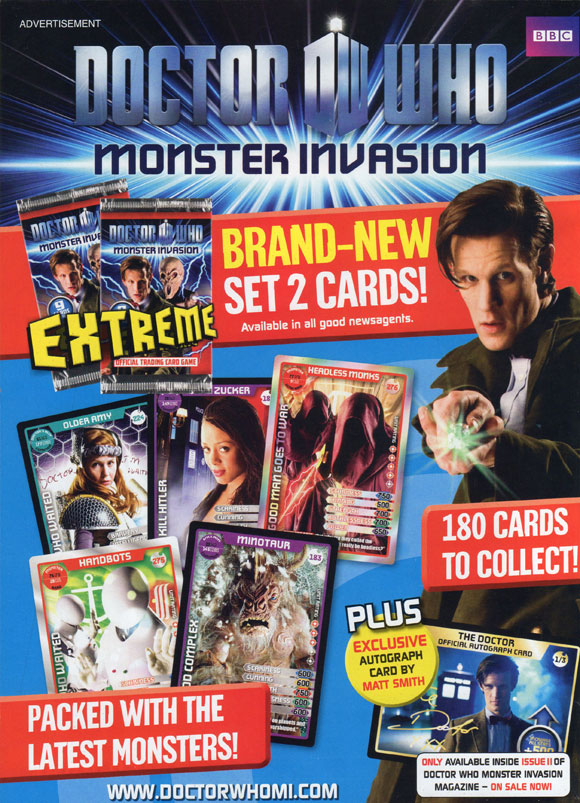 The new infinite card thanks to dramy rivory…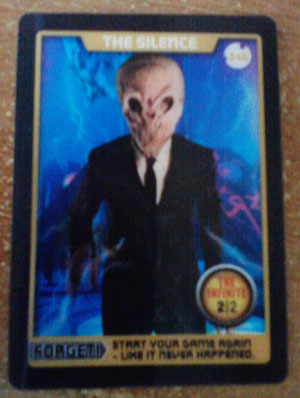 Click the links to see peoples cards…
Booboo Jr Jr ( Victini Forever ) ( Rory is cool )pictures