Eaglemoss to Expand Range – Consoles Already Confirmed?
According to previews world the console range is going ahead with the first one due in July – this must have been in the planning long before the poll came out!
Doctor Who Figurines Consoles Collection #1: Tom Baker
Eaglemoss proudly presents a new addition to the celebrated Doctor Who Figurine Collection. The Fourth Doctor's console, faithfully finished with all of the screens, switches, and controls seen on screen, is the first to be produced in scale with Collection. The console is made of high quality polyresin, with a removable plastic column in the centre.
In Shops: JULY 2018 Item Code: MAY18 3169 SRP: £19.99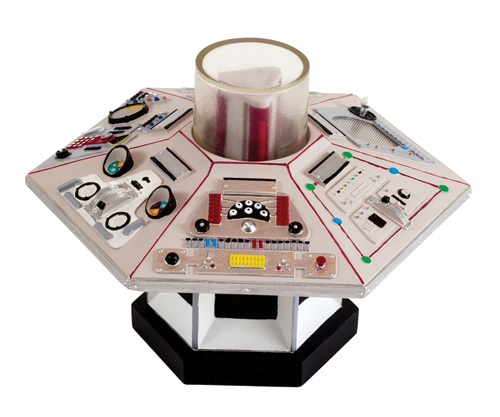 ---
Eaglemoss are asking people to vote for which different product ranges they would like to see…
"Due to the continued success of the Doctor Who Figurine Collection, we are currently looking at producing further product ranges, and would greatly appreciate your help deciding which new concepts we should produce.
Please take the time to complete this very brief survey to help us decide what we should produce in the future."
We have a very extensive Tardis section covering all consoles. You can view it Here.
They are asking you to vote for the following…
1/21 scale Tardis Consoles
Doctor Who Pin Badges
Doctor Who Bakeware (Cookie Cutters, Cake Moulds, etc.)
Doctor Who Ships and Vehicles
1/21 scale Tardis Exteriors
Once you have voted there are other sections to say which, for example, consoles you would be interested in and how many.
You can take the survey at www.quicksurveys.com