Doctor Who The Monster Collection Davros DVD
Doctor Who The Monster Collection DVD
Note the original images sent by the BBC were drafts.The final covers are now shown.
Correct covers with thanks to TheMindRobber
These six real 'hide behind the sofa' collections bring together episodes of the scariest and most iconic monsters from Doctor Who's classic and recent series.
Each title concentrates on a deadly enemy – The Daleks, Cybermen, Sontarans, The Master, Davros and the Silurians – and features two separate stories from popular incarnations of the Doctor, including Matt Smith, David Tennant, Tom Baker and Jon Pertwee. These collections are perfect for younger viewers just discovering the scary delights of fifty years of Doctor Who.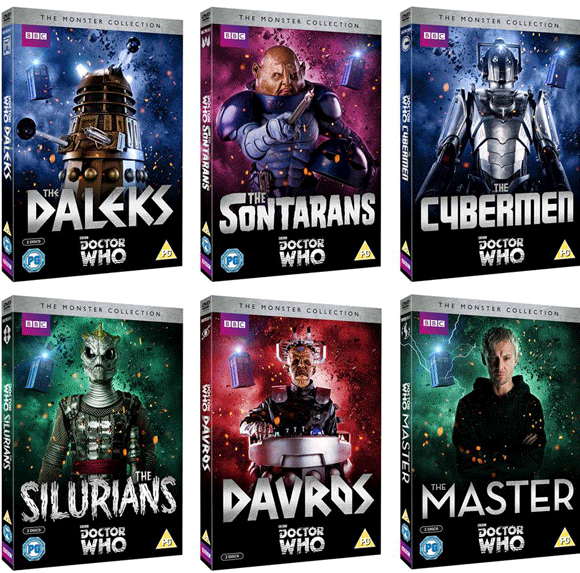 The Monster Collection: Davros
Genesis of the Daleks (1975)
The Time Lords intercept the transmat beam taking the Doctor, Sarah and Harry back to Nerva and deposit them instead on the planet Skaro at an early point in its history. Starring Tom Baker as the Fourth Doctor.
 
The Stolen Earth and Journey's End (2008)
The return of an old enemy leaves Earth along with 26 other planets stolen from their places. As the Doctor and Donna look for the whereabouts of Earth, former companions of the Doctor assemble a resistance against the new Dalek Empire. Starring David Tennant as the Tenth Doctor.