Doctor Who Figurine Pewter Fourth Doctor Tom Baker,
Our exclusive Fourth Doctor will be cast from 1.2kgs of solid English Pewter by AE. Williams of Birmingham, makers of traditional hand cast English Pewter since 1779. Historically, A.E. Williams have produced traditional Pewterware for palaces, cathedrals, stately homes, major Film TV and Theatre Companies as well as domestic Pewterware.
A family business to this day, each piece is made by skilled craftsmen with centuries of expertise. It goes without saying then, that the heritage and provenance of your figurine is therefore assured.
Available to order from www.robertharrop.com
Also available to order via their store on www.ebay.co.uk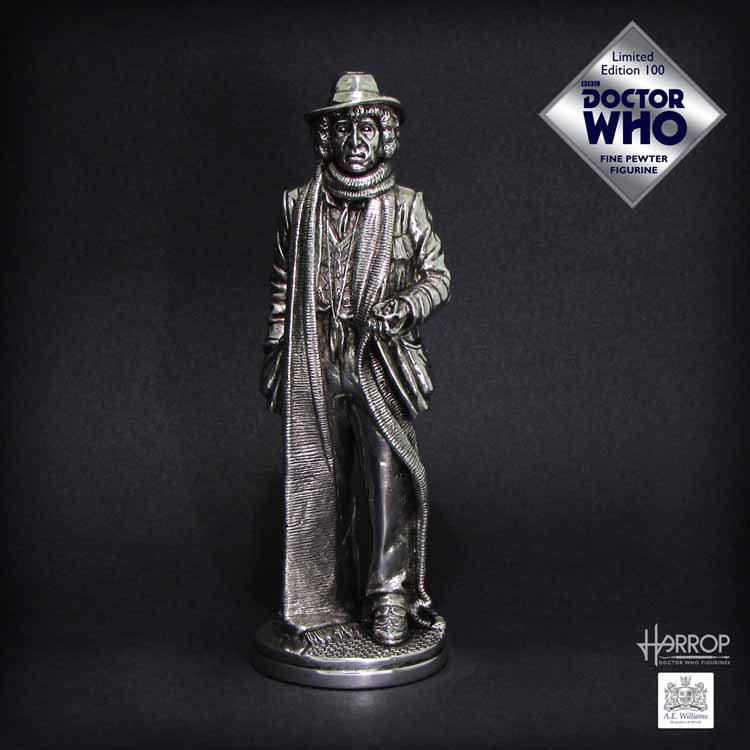 Each pewter cast is barrel rolled and polished to give it that fantastic finish and lustre, characterised by traditional English Pewter giftware for which A.E. Williams are famous for. Every piece will be individually hand stamped on the base with a specific limited edition number and will come accompanied by a Certificate of Authenticity, signed by Robert Harrop.
A Limited Edition Solid English Pewter figurine / statue from the Doctor Who Collection.
Designed, Sculpted and Made in Shropshire, England by Robert Harrop Designs in partnership with A E Williams.
Sculpted by Mike Rogers.
Approximately 7.4 inches (189mm) tall and 1.2kgs in weight.
A Limited Edition of Only 100 Figurines Worldwide.
Individually hand stamped with a unique number on the base.
Comes complete in a presentation box with data card and a Certificate of Authenticity, signed by Robert Harrop.
You can keep up to date on all developments in the Doctor Who figurines and collectables range at the dedicated Harrop Doctor Who Figurines Facebook Page.
Available to order from