Doctor Who DVD Files Issue 97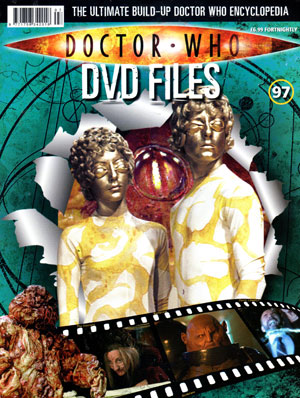 Doctor Who DVD Files Issue 97
This 97th edition of The DVD Files contains the classic story The Claws of Axos.
Available every fortnight, the magazine builds up into the ultimate Doctor Who Encyclopaedia."Doctor Who DVD Files is something unique – it's not just a chance to collect every episode of the series since the Doctor's return, the pull-apart magazine is incredibly ambitious.
Every fortnight you get pages packed with information and specially commissioned artwork.
It is currently planned to extend the DVD files to at least 110 issues.
In this issue…
THE CLAWS OF AXOS
The Third Doctor and UNIT must beware aliens bearing gifts.
THE VISIONARY
The Time Lords used this mystic in their sinister schemes…

EXXILON
Take a trip to the planet that disarmed the Daleks!
DANNY LLEWELLYN
Meet the doomed director of the British Rocket Group.
SYLVESTER MCCOY
Read all about the actor who played the Seventh Doctor.
A NEW FACE
Tom Baker joins the series as the Fourth Doctor.
SONTARANS:TOP MOMENTS
Relive past glories and defeats with the clone warriors.



CHULA AMBULANCE
This medical transporter did more harm than good.
GOODBYE ROSE
The Tenth Doctor bids a heartbreaking farewell…
For more information and how to subscribe go to the DVD Files website Here.
To order individual back issues click Here.