Doctor Who Adventures Issue 232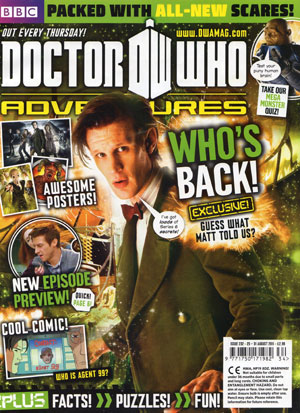 Doctor Who Adventures Issue 232
Did you miss me? Of course you did! But don't fret, I'm back on TV for some of my best-ever adventures.
Just have a look at the exclusive preview of the new episode! You're going to love it -it's completely bonkers!
Also in this issue you can find out all about my old friends the Weepiny Angels – who might be back on your screens before you know it. And I say they're friends. They're not exactly friendly, are they?

Also in this issue…
*The Doctors Brain
*Let's kill Hitler
*It's bad news for the Doctor
*No more spoilers
*The moon of lost hope
*Top 3 robots and much more
Don't forget to check out the Doctor Who Adventures website www.dwamag.com to keep up to date with the very latest news from the Time Lord.
This week issue comes with squirty bow tie, bouncy balls, pencil, postcards and bookmarks.