Doctor Who Adventures 161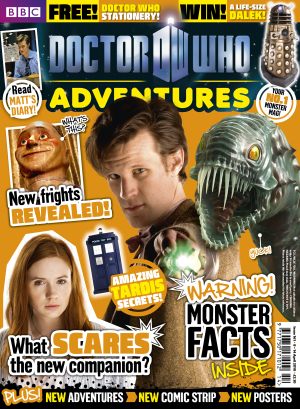 Doctor Who Adventures 161
MONSTER FACTS INSIDE
Find out all the facts on Prisoner Zero in this week's 'Fast Facts' only in Doctor Who Adventures magazine.
In this week's diary Matt reveals his favourite bits from episode one and how he managed to eat fish fingers and custard!
The Doctor and Amy make their first appearance in the Doctor Who Adventures comic strip.
If you are interested in subscribing to the Magazine go to the BBC Doctor Who Adventures page Here.
All this, and…
* Free Doctor Who stationery
* Win a life-size Dalek
* Sneak peak at episode two
* TARDIS Fact File
* Fantastic posters
Subscription offer – subscribe today and get a FREE Monster Book!
Issue 161 of Doctor Who Adventures magazine is out Thursday 8 April, price £2.10