Doctor Who Adventures 125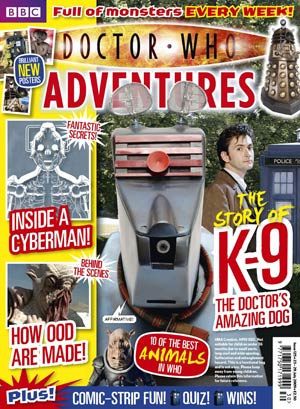 In this week's Doctor Who Adventures magazine…
… We look at the story of the robot dog that used to travel in time and space with the Doctor – K-9.
There's also a top 10 of all the weird and wonderful animals found in Doctor Who – everything from Rose the dog to the hairy, scary Werewolf.
But what's number one?
The issue comes with a Davros trainer bag!
If you are interested in subscribing, or to see various offers on the Magazine go to the BBC Doctor Who Adventures page Here.
All this and…
o Fantastic posters!
o A brand-new Doctor Who comic strip
o What's inside a Cyberman?
o Behind the scenes with the Ood
o Cool quiz
o The Unquiet Dead photo story
o Puzzles and competitions – amazing prizes to be won!
o Subscription offer – subscribe today and get a great Doctor Who book – Monsters and Villains.
Doctor Who Adventures, issue 125, priced £2.50, is in shops now!