Doctor Who Adventures 124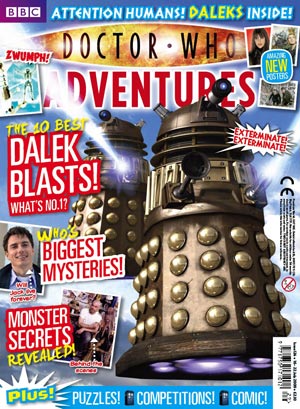 In this week's Doctor Who Adventures magazine…
… You will find an exclusive interview with Doctor Who monster maker Neill Gorton. Neill tells Doctor Who Adventures about his fondness for Davros, how long it takes to make a Cyberman and where the idea for the Slitheen came from.We have also got the 10 best Dalek exterminations, the biggest and most puzzling Who mysteries, a poster of future companion Karen Gillan and the results of our monster-drawing competition.
This week's issue comes with a cool Who inflatable and an exciting Dalek audio CD called The Mutant Phase, starring Peter Davison as the Fifth Doctor.
All this and…
o Fantastic posters!
o A brand-new Doctor Who comic adventure
o A planet guide to sandy San Helios
o The Day of the Clown photo story
o Puzzles and competitions – amazing prizes to be won!
o Subscription offer – subscribe today and get a fantastic Doctor Who book – Monsters and Villains.
Doctor Who Adventures, issue 124, priced £2.10, is in shops on 16 July.
Don't let the Daleks catch you reading it!
If you are interested in subscribing, or to see various offers on the Magazine go to the BBC Doctor Who Adventures page Here.