Bradford Exchange Tardis Sculpted Clock In Stock
Available to order from www.amazon.co.uk
Also available to order from www.bradford.co.uk
The Amazon price includes post. Shipping is extra from Bradford exchange so the actual cost is about the same.
In his many adventures, the Doctor has to manage space, time and relative dimensions: luckily though, those of us on Earth just need to manage our timeywimey stuff.
Now you, or someone you love, can do just that with this officially licensed sculpted clock. Capturing all the excitement of Doctor Who in one iconic blue Police Box, this first-of-kind clock plays the space-inspired movement Mars from The Planets Suite by Holst, whilst the red Supreme Dalek appears at the top on the hour.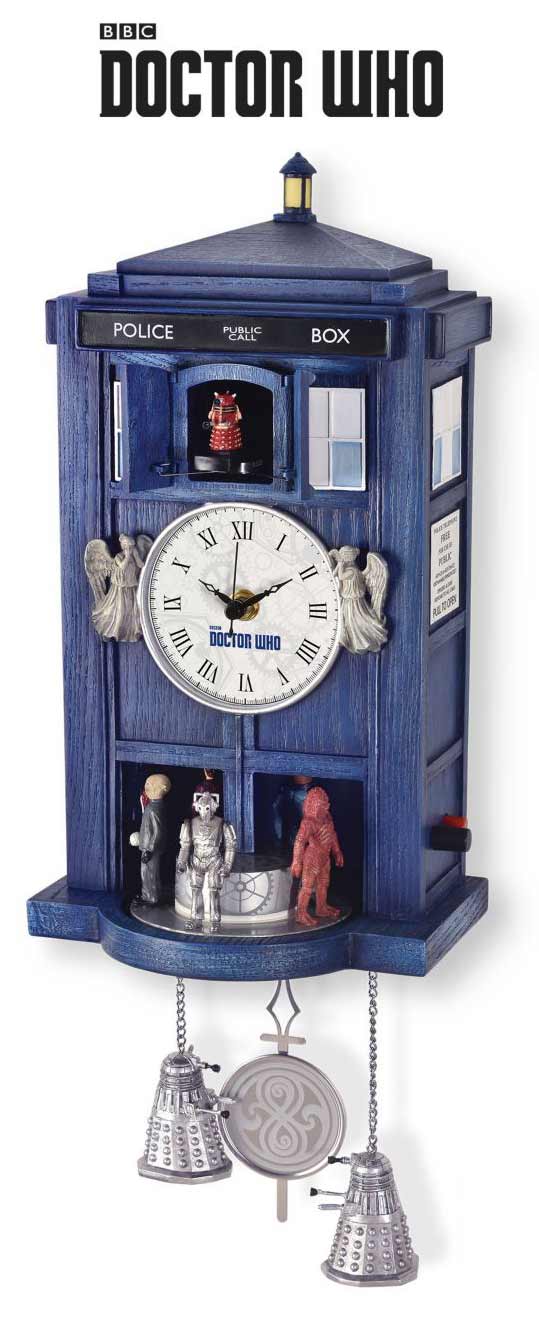 On the lower part of the clock, five iconic aliens encountered by the Doctor on his travels through space and time – Cyberman, Missy, Ood, Sontaran and Zygon – revolve around the base on the hour.
This exclusive collectable wall clock from The Bradford Exchange features:
The Doctor Who TARDIS Sculpted Clock is exclusive to The Bradford Exchange
Official Merchandise of Doctor Who
Doors open up to reveal a miniature of the Supreme Dalek
Weeping Angels are positioned either side of the clock face – don't blink!
Hand-sculpted models of five classic monsters encountered by the Doctor on his time travels revolve around the base, on the hour
Precision Quartz movement
Features a built-in hanging device for immediate display
Measures 21 inches in height x 6 inches in width x 5 inches in depth (incl. faux weights). Requires 1 x 'AA' battery (not included).
Rotation runs on 2 x 'D' batteries (not included)
Accompanied by a Certificate of Authenticity
Comes with our famous 365-day guarantee
A superb detail are the terrifying Weeping Angels, eyes covered, that appear either side of the clock face, which is decorated with the Time Lord symbols of Gallifrey. Two Daleks, the Doctor's arch enemies, appear as faux weights, alongside a faux pendulum featuring a Seal of Rassilon.
Please note the specifications have changed since first announced.