Big Finish Eighth Doctor Adventures Dark Eyes 1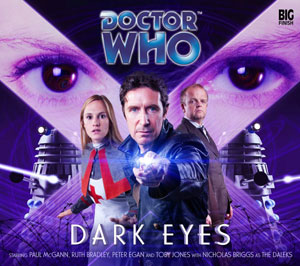 Eighth Doctor Box Set 1: Doctor Who – Dark Eyes
To Buy or Download This CD or to see full details on this and other Audio CD's and books go to the Big Finish Website Here
In the aftermath of To The Death…
An epic, box set adventure, taking the Doctor on a desperate journey through space and time.
Part One. The Great War – The Doctor is heading to 'the edge' and beyond. But the Time Lords have other ideas. On Earth, during the First World War, Molly O'Sullivan works hard as a Voluntary Aid Detachment nursing assistant. How can her destiny be bound up with that of the Doctor's?
Part Two: Fugitives
With the first objective of his mission reached, almost nothing is going to plan for the Doctor. He finds he cannot contact or return to the Time Lord's home planet, Gallifrey. And just when Molly O'Sullivan thinks she's escaped one conflict, she finds herself in the thick of another one.
What is it that connects the Doctor, the Daleks and the mysterious Ides Scientific Institute?
Part Three: Tangled Web
Something happened when Molly O'Sullivan was just two years old, and the Doctor thinks it's high time they found out exactly what it was.
Meanwhile, the Daleks are fully activating their Temporal Chamber. And while the Doctor and Molly get closer and closer to the terrible truth, the nature of reality itself seems to be in question.
Part Four. 'X' and the Daleks
'Subject is called Molly O'Sullivan. An inhabitant of Earth. Born Earth year 1891. Has travelled in space and time with Time Lord known as the Doctor.'
With Straxus and his TARDIS destroyed, the Doctor and Molly have tracked the mysterious 'X' to the planet Srangor. It is here that the truth of the threat to the universe will finally be revealed.
What is the Dalek Time Controller's ultimate plan? What exactly is the space-time projector? Who will survive this epic battle for survival?
Written By: Nicholas Briggs
Directed By: Nicholas Briggs
Cast
Paul McGann (The Doctor), Ruth Bradley (Molly O'Sullivan), Peter Egan (Straxus), Toby Jones (Kotris), Tim Treloar (Lord President), Laura Molyneaux (Isabel Stanford), Natalie Burt (Sally Armstrong), Ian Cullen (Nadeyan), Jonathan Forbes (Dr Sturgiss), Alex Mallinson (Private Tucker), Beth Chalmers (Matron/Kitty Donaldson/Nurse Harriet), John Banks (Private Hodgeson), Nicholas Briggs (The Daleks)