Big Chief Studios Doctor Who Showcase
This video is some months old now but with most of the exposure going to their 1:6 scale figures its worth taking another look at other items coming soon from Big Chief Studios, especially now as some pre-orders have just become available.
Just announced and available to order Here, the new mini bobble range wave one, which hopefully will be the first of many, consists of the 3rd, 4th and 10th Doctors along with a Bronze Dalek. Each figure is window boxed and stands just over 3″ tall.
Future "exclusive" releases (presumably retailer on convention) include an Assault Dalek, Imperial Dalek and an Ironside Dalek.
"The Daleks are the Doctor's ultimate opponents, forever trying to conquer the galaxy. They have engineered many evil and elaborate schemes to invade Earth, only to be thwarted by the Doctor and his companions every time."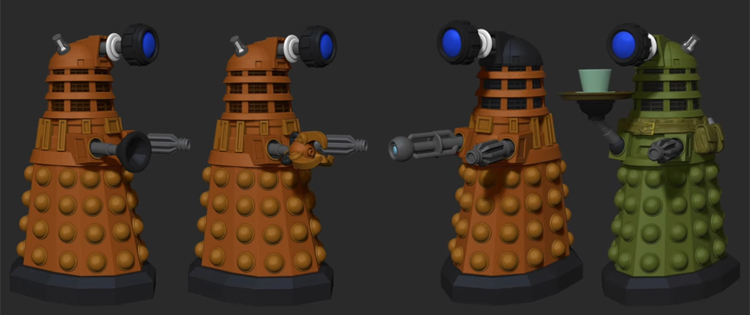 Join in the adventure with the Doctor and the universe's most formidable foes with the Bobble Buddies mini bobble figurine collection.
Tenth Doctor
With his trademark pin-striped suit and flowing trench coat, classic training shoes and trusty sonic screwdriver, the Tenth Doctor stood defiant against countless foes and enemies throughout time and space.
Fourth Doctor
The Fourth Doctor cuts a striking figure in his eccentric attire and his trademark long scarf. The Time Lord comes with a bag of Jelly Babies and his ever-reliable sonic screwdriver.
Third Doctor
Exiled on earth, the Third Doctor was confident, bold and flamboyant. During his exile he became allied to the extra-terrestrial taskforce UNIT, helping them to combat numerous enemies and his most formidable foe, the Master.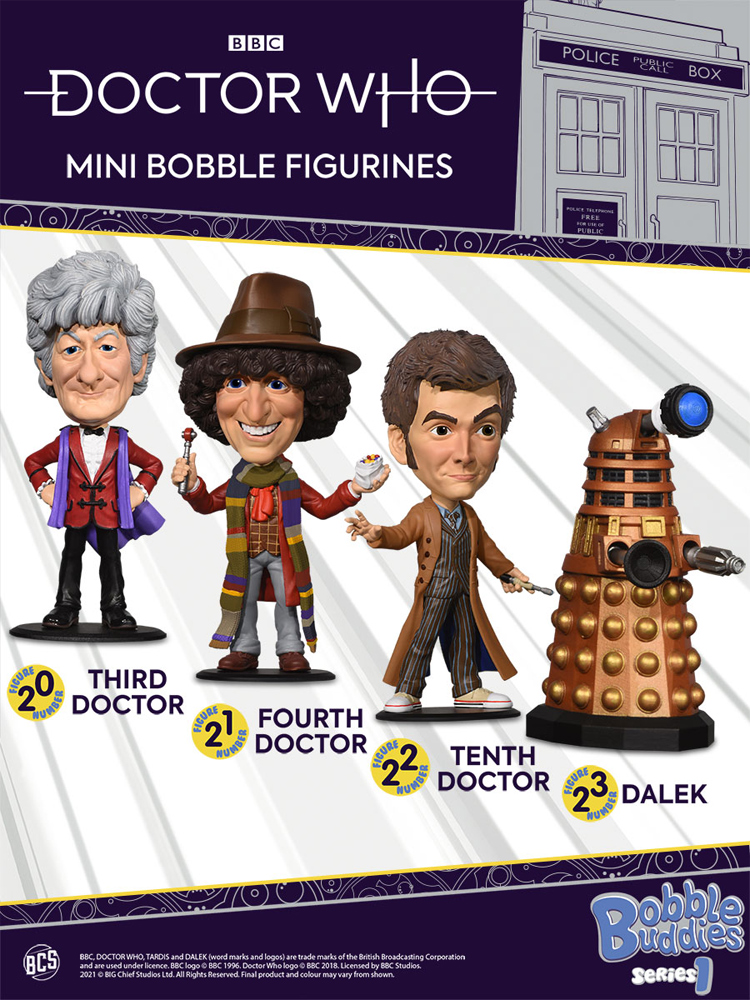 Other new items include Tardis Money Boxes, standing around 7″ tall, each Tardis has a Doctor standing within the door.

Shown so far include:
10th Doctor and Tardis
4th Doctor and Tardis
3rd Doctor and Tardis