BBC Shop The Web of Fear DVD / T-Shirt Exclusive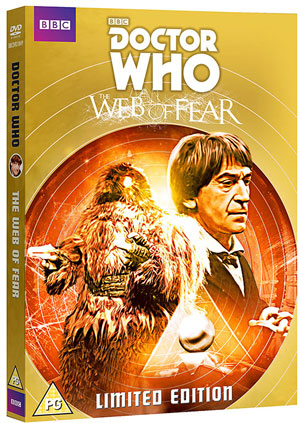 BBC Shop The Web of Fear DVD / T-Shirt Exclusive
Available to order exclusively from www.bbcshop.com
Unseen in the UK for 45 years – marvellously restored and remastered and brought back to life for you to own on DVD.
The TARDIS narrowly avoids becoming engulfed in a cobwebby substance in space. It arrives in the London Underground railway system, the tunnels of which are being overrun by the web and by the Great Intelligence's robot Yeti.
The Intelligence's goal is to drain the Doctor's mind; can the Doctor sabotage the device before the Intelligence's plan comes to fruition? To celebrate the discovery and release of Doctor Who: Web of Fear, BBC Shop and Dark Bunny Tees have been lovingly working together to bring you a strictly Limited, Exclusively designed T-shirt.
Whisked away to Africa**, location of the discovered tapes designer Alex Chenery has been busying himself on the ultimate design and tribute to the six-part tale unseen on these shores for 45 years. With finishing touches being placed on the designs right now, (we've waited this long, we didn't want to rush!) keep your eyes peeled!
All designs will be screen-printed on a Ring-Spun, Soft Style, Euro cut t-shirt.
**The office we nicknamed downstairs.
Available to order exclusively from www.bbcshop.com