Now We Are Six Hundred A Collection of Time Lord Verse

Available to order in the UK from www.amazon.co.uk.

Available to order in the USA from www.amazon.com
BBC Books Publishing Director Albert DePetrillo has acquired Doctor Who: Now We Are Six Hundred, the very first collection of Time Lord verse. BBC Books have world rights, with North American rights sold to HarperCollins.
A gentle and humorous riff on the classic Now We Are Six, this is a collection of charming, funny and whimsical poems that celebrate the joys, sorrows and wonders of Time Lord life. Written by author James Goss, the book features illustrations by former Doctor Who Executive Producer Russell T Davies – his first role as an illustrator, using the comic artist skills he developed in his youth.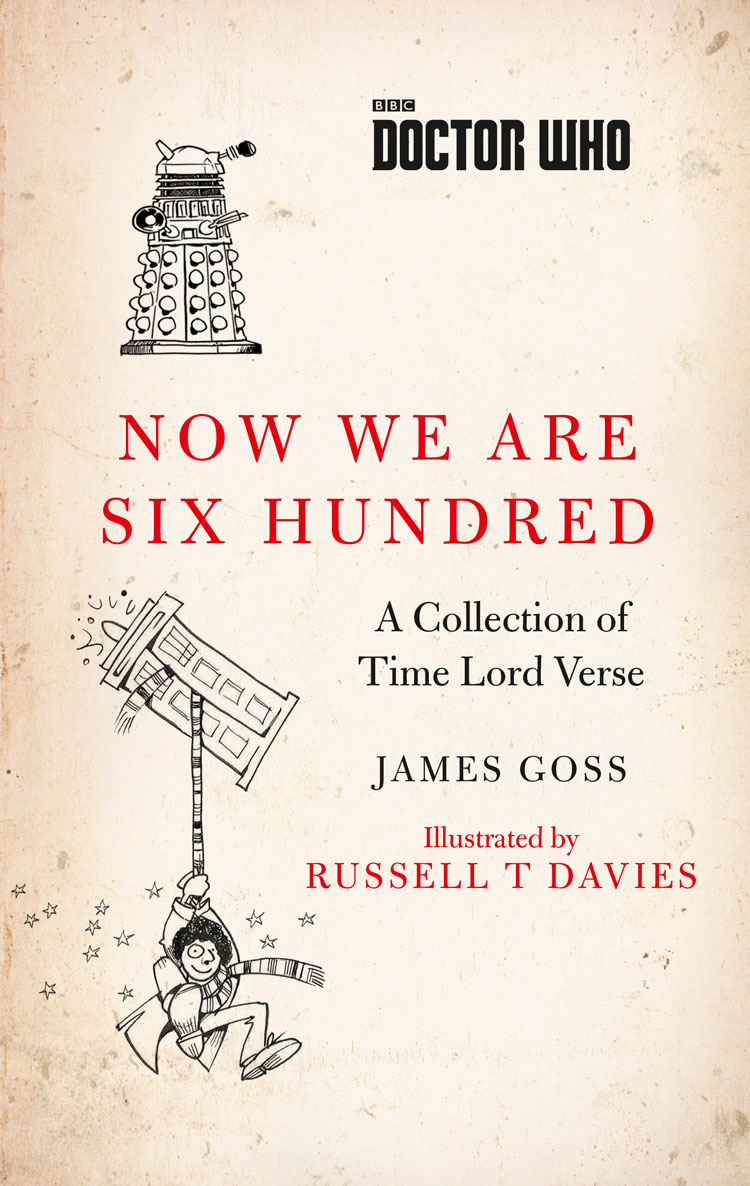 Albert DePetrillo says 'This is a book I've long wanted to publish, and James and Russell have realised the idea brilliantly, well beyond anything I'd hoped. It's something very special, a unique gift for every Doctor Who fan. For full effect, please be sure to read these poems aloud to your friends, preferably more than once.'
James Goss says 'BBC Books have carefully baited an irresistible trap to lure people into reading poetry. Russell's beautiful illustrations make this the most charming Doctor Who book there's ever been (and I'm including that magical first Doctor Who book you discovered as a child). The poems have been a delight to work on. Who could resist retelling the fiendish Daleks' Masterplan in verse, or finding bizarre and ludicrous rhymes for monster names?'
Russell T Davies says 'I've been drawing for Doctor Who long before I was writing it, so it was like time-travel for me, voyaging back to that young scribbler who used to cover his school desk with Daleks!'
RUSSELL T DAVIES is a television writer, the creator of ground-breaking shows such as Queer As Folk, Bob & Rose, Casanova, Cucumber, and in 2018, A Very English Scandal for BBC One. He brought Doctor Who back to our screens in 2005, also creating spinoffs Torchwood and the Sarah Jane Adventures. He was awarded an OBE in 2008 for services to drama. He divides his time between Cardiff and Manchester.
JAMES GOSS has adapted three Doctor Who stories by Douglas Adams for BBC Books (City of Death, The Pirate Planet, and The Krikkitmen). He's also written several original Doctor Who and Torchwood books. His novel Haterz is in development as a motion picture. He's also written for the stage and the radio. This is his first (and probably only) volume of poetry.
Doctor Who: Now We Are Six Hundred will publish in hardback on 14th September, two weeks before National Poetry Day on 28th September.