Doctor Who Titan Comic UK Vol 2 Issue 2
The Doctor and his companions encounter mystery, musicians, and mayhem in three fantastic comic adventures.
In this issue: the astounding Four Doctors special event continues; the Twelfth Doctor and Clara hope they don't roll snake eyes when they take a gamble in 1960s Las Vegas; and the volume is cranked up to eleven when the Tenth Doctor and Gabby return to New York City! Plus – don't miss the chance to win a spectacular, hand-sculpted Cyberman Bust!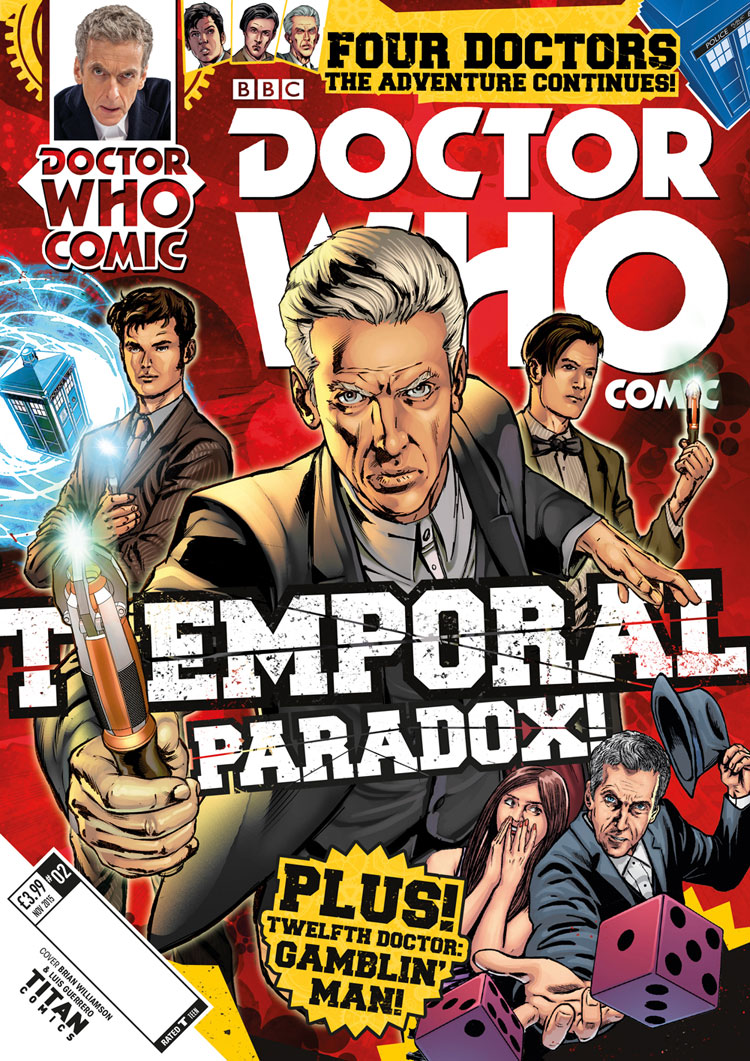 FOUR DOCTORS – PART TWO
After being caught in the blast of a Continuity Bomb, the Doctors were whisked through a series of alternate timelines, in which they could be trapped forever!
They reached a world where the Twelfth Doctor, old and near-mad from loneliness, had been betrayed by Clara. Choosing this timeline in attempt to escape, they fell into a trap. The Old Twelfth Doctor took them to a tiny pocket universe, where the Voord have hidden since the Time War. Worse… the Old Twelfth Doctor is the leader of the Voord!
ECHO
Overwhelmed by her experiences with the Tenth Doctor, Gabby is happy to return home to Sunset Park, Brooklyn, and see her friends and family again. Having witnessed the true value of life in the terror of the trenches, Gabby's travels have already left a deep impact.
But evading the stares of the Weeping Angels may prove easier than coming home, even if just for a short visit – especially when the Doctor is around. Will life for Gabriella Gonzalez ever be normal again? And if not, does she care?!
GANGLAND – PART ONE
When UNIT scientist Paul Foster crossed dimensions to reunite with his family, a crack was created in our universe. A horrifying group of body-hopping entities known as the Fractures spilled out of the void.
The Doctor and Foster worked together to trap the creatures and return them to the void – but not without making a potent enemy of the Fractures…
Now, Clara and the Doctor are off to 1960s Las Vegas for some relaxation! But unearthly danger lurks beneath the city's neon lights…
WIN! A HAND-SCULPTED CYBERMAN BUST FROM EDGE SCULPTURE!
Courtesy of Edge Sculpture, one lucky reader has the chance to win a spectacular Cyberman bust, designed and sculpted by Matt Buckley! The completed bust has a dynamic look, with intricate attention to detail. Originally sculpted from clay, the finished sculpture has been carefully moulded. The distinct Cyberman appearance has been faithfully recreated by hand-cast ceramic polystone, adding finer detail and texture. The fantastic final touches have been skilfully hand-painted and finished, bringing the creation to life.
Plus TWO runners up will win a limited edition hand-painted Cyberman figurine from Robert Harrop Designs' brand new Doctor Who range! Limited to only 750 worldwide, these fantastic statues are individually marked with their own unique number, and come complete in a presentation box with an information card and Certificate of Authenticity!