Big Finish The Diary of River Song Volume 5
Available to order from www.bigfinish.com
The Bekdel Test by Jonathan Morris
Animal Instinct by Roy Gill
The Lifeboat and the Deathboat by Eddie Robson
Concealed Weapon by Scott Handcock
Story details to follow soon
Directed By: Ken Bentley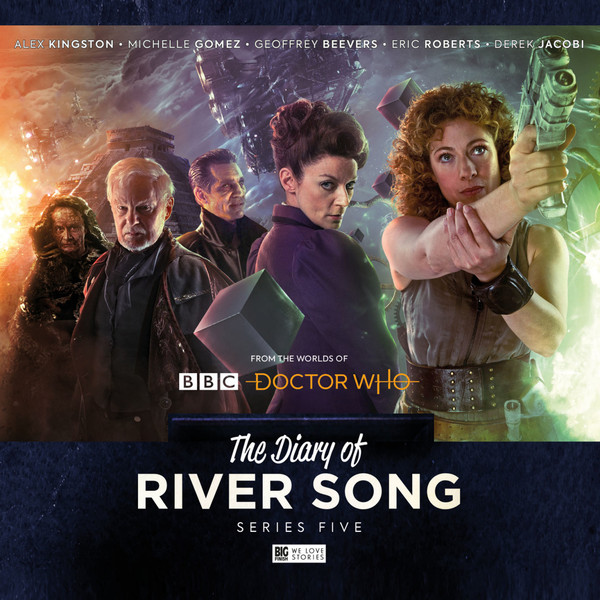 Cast
Alex Kingston (River Song), Geoffrey Beevers (The Master), Eric Roberts (The Master), Derek Jacobi (The Master), Michelle Gomez (Missy)
More cast details soon.
Producer David Richardson
Script Editors Matt Fitton, John Dorney
Executive Producers Jason Haigh-Ellery and Nicholas Briggs
It's River Song versus the Masters! Michelle Gomez returns as Missy and Eric Roberts reprises his portrayal of the Master after a 22 year hiatus in the fifth series of The Diary of River Song.
Over the course of four audio series made in arrangement with BBC Studios, River Song (played masterfully by Alex Kingston) has shone alongside several incarnations of the Doctor, including Paul McGann, Sylvester McCoy, Colin Baker, Peter Davison and upcoming in August, Tom Baker. But all that is set to change…
In January 2019, River Song will face off against four regenerations of The Master, the mortal enemy of the Doctor, in the fifth series of adventures. And some old (and new) faces are returning…
Alongside Geoffrey Beevers (first playing the Master in Doctor Who TV episode The Keeper of Traken in 1981) and Derek Jacobi (who played the Master in 2008 episode Utopia and continues at Big Finish), Michelle Gomez returns as Missy, who we last saw in the latest Doctor Who series opposite Peter Capaldi.
Plus Eric Roberts, who first crossed paths with Paul McGann's Doctor in the 1996 Doctor Who TV movie, returns to battle the Doctor's wife.
Mark your diaries, four new adventures for River Song begin in January 2019…