Big Finish Class Volume 02
Available to order from www.bigfinish.com
Three new adventures for the students of Coal Hill Academy, based on the television series created by Patrick Ness.
2.1 Everybody Loves Reagan by Tim Foley
When Reagan Harper joins Coal Hill Academy, everybody instantly loves her – everybody except for April. Is there really more to Reagan than meets the eye? Or are there other forces at work in Coal Hill?
2.2 Now You Know… by Tim Leng
Following a series of freak attacks on staff and pupils, Tanya and Matteusz find themselves investigating a mystery that dates back to the 1960s. Together, they hope to solve it – even if that means turning on one another to do so…
2.3 In Remembrance by Guy Adams
When an alarm is triggered at Coal Hill Academy, Quill and Charlie encounter a mysterious intruder prowling around school premises. Worse, they also encounter a Dalek. Their only hope of survival lies with the stranger: a woman who calls herself 'Ace'…
THE CD BOX SET OF THIS RELEASE WILL BE LIMITED TO 500 COPIES.
Written By: Tim Foley, Tim Leng, Guy Adams
Directed By: Scott Handcock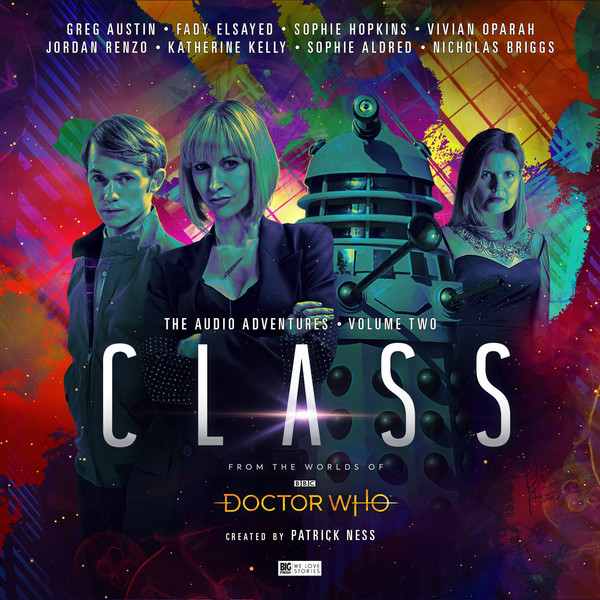 Katherine Kelly (Miss Quill), Greg Austin (Charlie Smith), Fady Elsayed (Ram Singh), Sophie Hopkins (April MacLean), Vivian Oparah (Tanya Adeola), Jordan Renzo (Matteusz Andrzejewski), Taj Atwal (Reagan Harper), Anson Boon (Peter Dillard), Shvorne Marks (Michelle), Wilf Scolding (Chris Richards) with Sophie Aldred (Ace) and Nicholas Briggs (The Daleks). Other parts played by members of the cast.
Producer Scott Handcock
Script Editor Scott Handcock
Executive Producers Jason Haigh-Ellery and Nicholas Briggs