The New Andrew Skilleter Website

Andrew Skilleter is well known for his Doctor Who art some if which is now available to buy from the on-line shop which you can find on his newly up-dated website Here. You can also see images familiar to many of you from BBC Video covers and Target Novels, he has also illustrated many books. Below is an introduction to his website…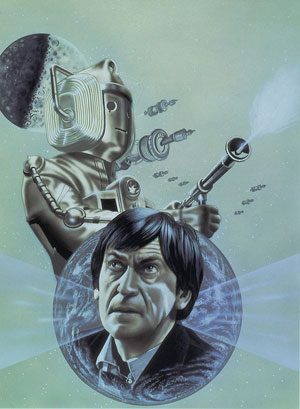 The New Andrew Skilleter Website
Left – The Invasion BBC video cover
Hello!
After much planning and labour and a little help from my friends, my new website is now live.
It is better in every way, including extensive galleries, bigger and better images, a Blog and Shop with online secure checkout
Multi-Genre and Frequently Updated…

Most of you will be familiar with my work, but for those who are not, I am best known for my professional Doctor Who work, but I have also worked in numerous genres and you will find here a kaleidoscope of multi-genre images in the new Doctor Who, Fantasy, Sc-Fi, Narnia and Ruth Rendell galleries with better and bigger images, that will hopefully entertain, inspire and excite.
The site will be updated and added to frequently and will keep you up to date with news and you can discover more about my work and future projects. You can visit now. Thanks to everyone who has supported me and for your interest.