The Monster Factory Tardis Desk Tidy
Available to order from www.amazon.co.uk
The Monster Factory's new Doctor Who desk tidy is set to take stationery into another dimension! The eye-catching penholder is an official replica of the TARDIS – the Time Lord's iconic blue police box.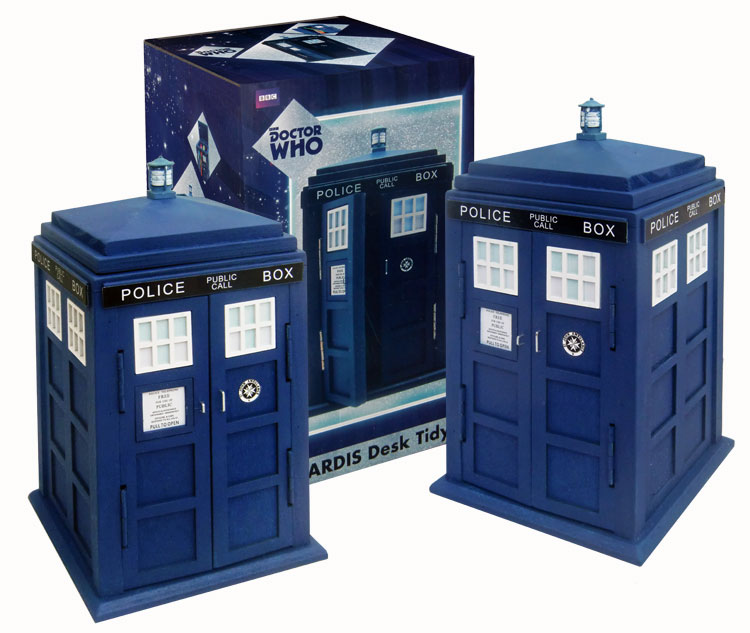 Do you dread those long, dreary days in the office fielding emails, fiddling with spreadsheets and brainstorming novel ways to unjam the printer? Whether it's wading through revision or spending endless hours watching the spinning wheel of death on your laptop screen, you are not alone – even Time Lords have to do their admin!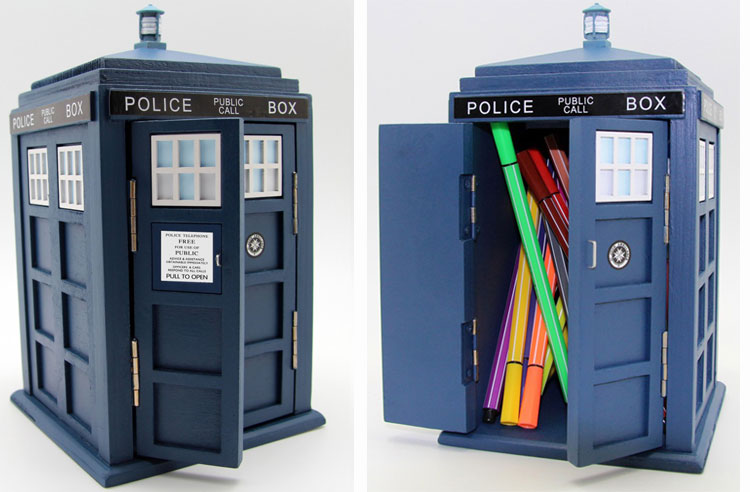 At last something has come along to relieve the tedium of everyday life on Earth. Before you run out of the door screeching 'exterminate!' at Keith in Accounts, let the TARDIS desk tidy whisk you away on a journey through space and time.
You may not have a plucky companion, but you can have the ultimate accessory. The official Doctor Who stationery holder is a perfect replica of the police phone box that has carried the Time Lord to every time and dimension in the galaxy.
The TARDIS has been made to the same exacting standards that the Doctor would expect – the wooden tidy is durable and detail-rich, with a hinged door and roof. Just like the cavernous original, the TARDIS is bigger than it appears, with plenty of rooming for hiding pens, pencils and sonic screwdrivers.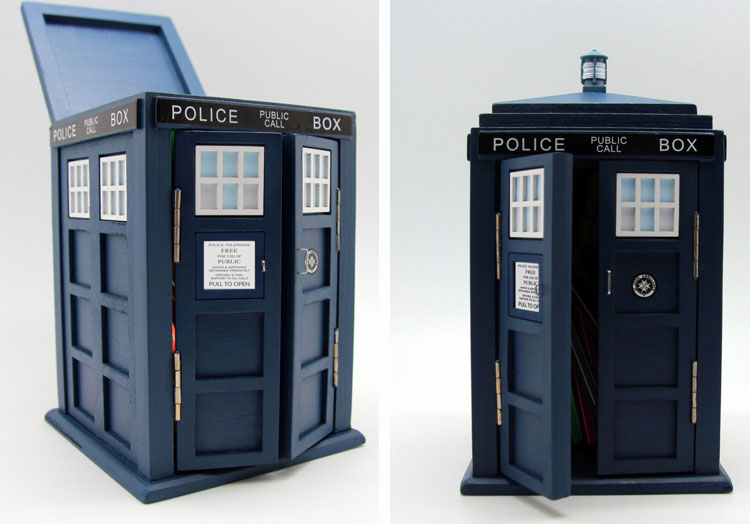 The TARDIS desk tidy is the must-have gift for Whovians of all ages. Now any cubbyhole or workstation can be transformed into a realm of fantasy and adventure! Where will you go and who will you face? Perhaps you'll choose battle against the Sontarans, go head with the Master or take a trip back home to Gallifrey? Open the TARDIS doors, pick out a pencil, and dream…
About Doctor Who:
Doctor Who is a flagship BBC programme that has achieved cult status during its long broadcast career. The drama first aired in 1963, with 12 actors regenerating into the iconic role of the Doctor. To its wide and multi-generational Whovian fan base, the show is nothing less than a national institution. The Doctor's ship, the TARDIS has become synonymous with the programme. Its name stands for Time And Relative Dimension In Space.
About The Monster Factory:
The Monster Factory was established as a giftware company in 1998, quickly establishing a reputation as a market leader.
 It specialises in working with licensed brands to create product ranges that combine great function with first class design. The Monster Factory prides itself on its innovation, capturing the DNA of each character or license with humour and flair.
Over the years, its products have carved out brand new merchandise categories and won numerous industry awards. As well as selling their own catalogue, the company 
also collaborates with retailers and licensors to develop exclusive ranges and bespoke product offerings.
 With offices in the UK, USA and China, The Monster Factory is perfectly placed to realize their partners' vision – from concept through to the final packaged product