BBC Shop Enemy of The World DVD / T-Shirt Exclusive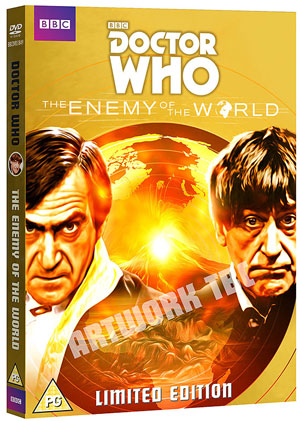 The Enemy of The World BBC Shop Slipcase DVD
The TARDIS arrives in a futuristic Australia, where the genius Salamander has found a way to end starvation by harnessing the sun's energy and preventing natural disasters on a global scale.
But there are those who believe Salamander's office is moving towards dictatorship. One such person is Giles Kent, and he is immediately struck by the Doctor's remarkable likeness to the great man.
The Doctor and his companions infiltrate Salamander's top secret research station and uncover a web of lies on a massive scale.
Unless the wholesale deception can be revealed, global war looks set to break out…
Available to order exclusively from www.bbcshop.com
---
Also available…
The Enemy of The World BBC Shop DVD / TShirt Exclusive
Unseen in the UK for 45 years – marvellously restored and remastered and brought back to life for you to own on DVD.
Available to order exclusively from www.bbcshop.com
Enemy of the World is the fourth tale of Series 5 which first aired on the BBC in December 1967. It stars the second actor to play the Time Lord, Patrick Troughton, who is both the Doctor and his antagonist Ramon Salamander, alongside Frazer Hines (Jamie) and Deborah Watling (Victoria).
On Earth in the near future, the Doctor and his companions are enmeshed in a deadly web of intrigue thanks to his uncanny resemblance to would-be 21st century dictator Salamander. He is hailed as the 'Shopkeeper of the World' for his efforts to relieve global famine, but why do his rivals keep disappearing? How can he predict so many natural disasters? The Doctor must expose Salamander's schemes before he takes over the World.
To celebrate the discovery and release of Doctor Who: Enemy of the World, BBC Shop and Dark Bunny Tees have been lovingly working together to bring you a strictly Limited, Exclusively designed T-shirt.
Whisked away to Africa**, location of the discovered tapes designer Alex Chenery has been busying himself on the ultimate design and tribute to the six-part tale unseen on these shores for 45 years. With finishing touches being placed on the designs right now, (we've waited this long, we didn't want to rush!) keep your eyes peeled! All designs will be screen-printed on a Ring-Spun, Soft Style, Euro cut t-shirt.
**The office we nicknamed downstairs
Available to order exclusively from www.bbcshop.com
.