K9 Merchandise – 40th Anniversary Special Feature
Its 40 years since K9 first appeared on TV in the second episode of The Invisible Enemy transmitted on the 8th October 1977 so we thought we would update our K9 special feature page which looks at some of the K9 merchandise that has been made available over the years, and its amazing just how much there is…
Highlighted text links to Amazon or Ebay listings for reference.
You can find out all about K9 on the official site or in our own extensive spin-off sections
K9 Figures and sets
Mego/Denys Fisher, Corgi , Dapol and Product Enterprise: Seen below are some of the Corgi sets to feature K9 and the Product Enterprise
Talking release with The 4th Doctor. Also shown are the keyring and air freshener. None of these were the earliest k9 release, this honour goes to Mego/Denys Fisher
.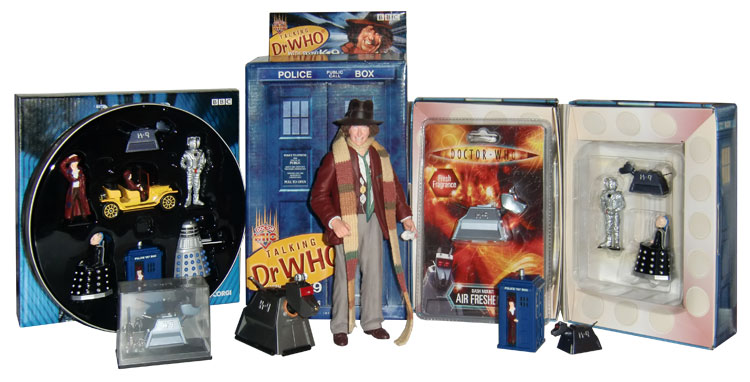 Several K9's were also produced by Dapol
including silver, black, green and anniversary variants. There is a full history of Dapol products at www.richardwho.co.uk
Below shows a grey, green and 35th Anniversary model.

Character and Underground Toys: Several sets featuring K9 have been released over the years some of which are shown below including the Underground Toys figure set with the 4th Doctor. Character produced the 5″ K9 in rusty and "new" variants.
Also shown is the smaller Character remote control version sold in a set with 10th Doctor.The most recent set available at B&M includes the long awaited "Classic" K9.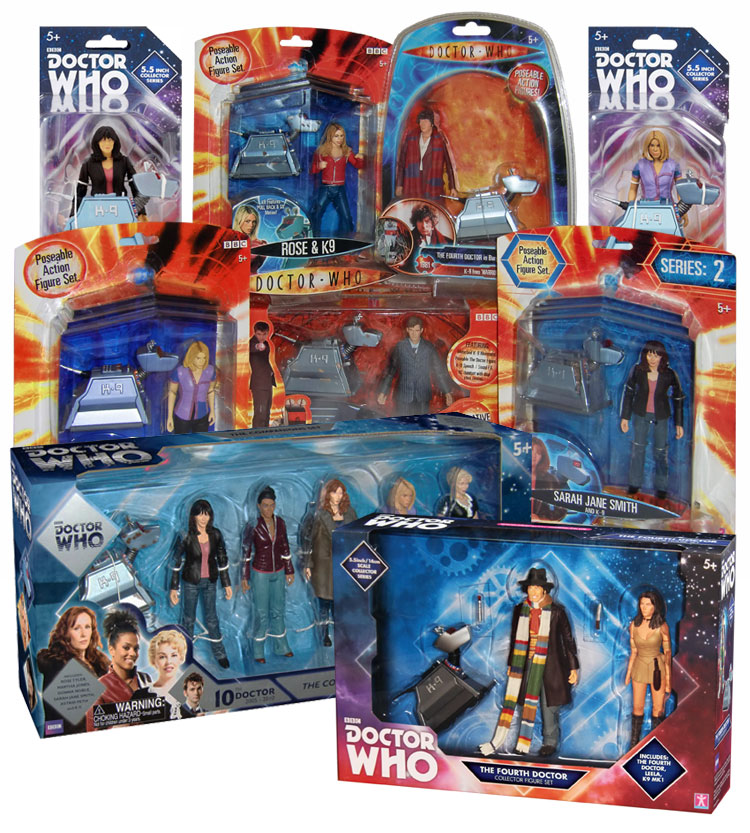 K9 4″ Official Collector's Figurine: Now you get to be his master and take him home to look after him in the shape of this highly detailed and hand-painted resin figurine produced with the co-operation and help of the creators.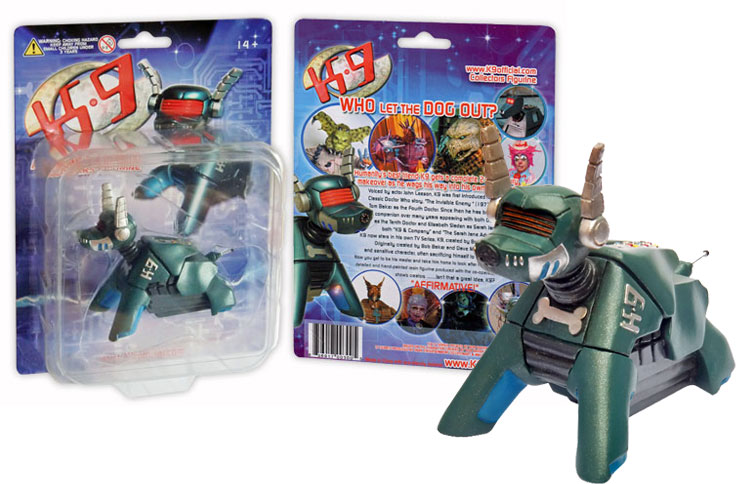 ---
K9 on DVD and VHS
Although there have been many Doctor Who stories to feature K9 we concentrate here on two specific spin off's both containing his name in the Titles.
K9 and Company: K9 and Company (or a girls best friend), By Terence Dudley, was a direct spin off from Doctor Who and aired in 1981.
Sarah Jane Smith is looking forward to spending a quiet Christmas with her Aunt Lavinia in the sleepy village of Morton Harewood. When she arrives, she finds her aunt is missing, and a surprise gift from an old friend is waiting to be opened…
The DVD was released in a K9 Tales box set with The Invisible Enemy. K9 and Company is also available as an Audio CD.
The original VHS cover (left) and both the main and reversible alternative covers of the DVD release are shown below along with the covers of part 1 and 2 of the new series.

K9 The Complete New Series DVD's: K9 follows the adventures of three teenagers – Starkey, a young rebel genius who's lost his parents in mysterious circumstances, not to mention his own way in society; Jorjie, a very capable fighting dynamo in the deceptively cute frame of a privileged-schoolgirl from the upper echelons of society.
Darius, a sneaky and cunning delivery boy who knows the city like the back of his light-fingered little hand – and, of course, K9, a cybernetic wonder – a robotic dog built of mysterious alien technology and pulled through time and space to arrive on planet Earth.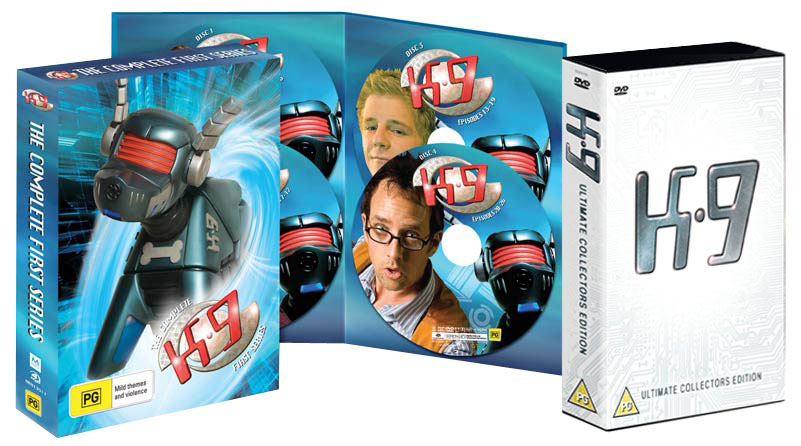 ---
Documentaries and Autobiographies
Reeltime Pictures K9 Unleashed: In this exclusive DVD we find out the truth about K9 from those who designed, operated and acted with him..and even sacked him! Featuring Louise Jameson, Bob baker, Dave Martin, Tom baker, Elisabeth Sladen, John Leeson and many more.
K9 Stole My Trousers! The autobiography of Bob Baker, co-writer of three Oscar and BAFTA winning Wallace & Gromit films, creator of K9, and writer of numerous Doctor Who episodes.
Tweaking The Tail: The Autobiography of John Leeson

---
K9 Books
K9 and Company Target book: Like the Doctor Who stories, K9 and company was also the subject of a Target book published in 1981.
The Adventures of K9 and Other Mechanical Creatures: Here's a book all about my faithful friend, K9. As you know, K9 is a kind of robot dog – though he'd sooner be described as a completely-mobile, self-powered computer with multi-sensory circuits and built-in defensive capabilities.
K9 Annual 1983: K9 is no ordinary canine. To give him his precise due, he is a real-time data analyser robot, who just happens to be in the shape of a mechanical dog.
The Doctor Who Files- K9: Find out all about K-9, his creation and history, his friends and enemies, then join him in a brand new adventure in A Dog's Life.

The Adventures of K9 consisted of 4 storybooks written by David Martin, co-created of K9 alongside Bob Baker. These books were published in 1980 and are available in pdf format on the DVD release K9 and Company.
There is also an Audio CD of these books.

The Essential Book of K9: Includes: The complete story of K9 from Doctor Who and beyond with Special Features, Exclusive Photos and new Fiction from Bob Baker!
This fabulous books is the definitive guide and has now sold out.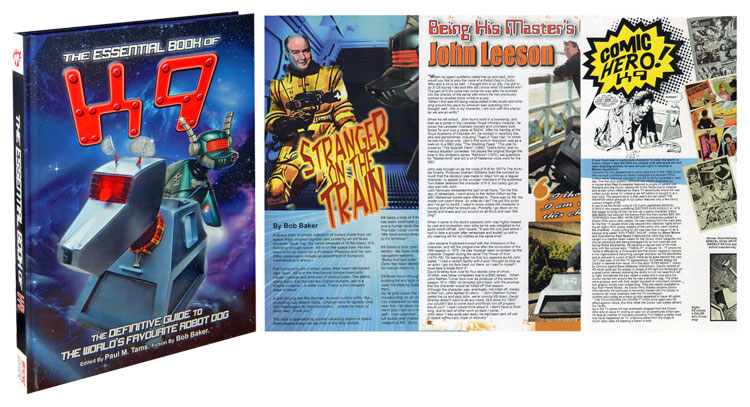 ---
Danbury Mint
The Danbury Mint Chess set
is now highly collectable. Once you had subscribed two chess pieces were sent out every other month at a cost of £15.45. Expansion sets were also issued covering right up the the TV Movie with Paul McGann. K9 featured as on of the "Pawns" opposite the Daleks belonging to the second player.
Danbury mint also introduced a now rare and sought after six figure Doctor Who set
made of pewter also featuring K9 along with a Tardis, Dalek, Sea Devil, Ice warrior and Cyberman.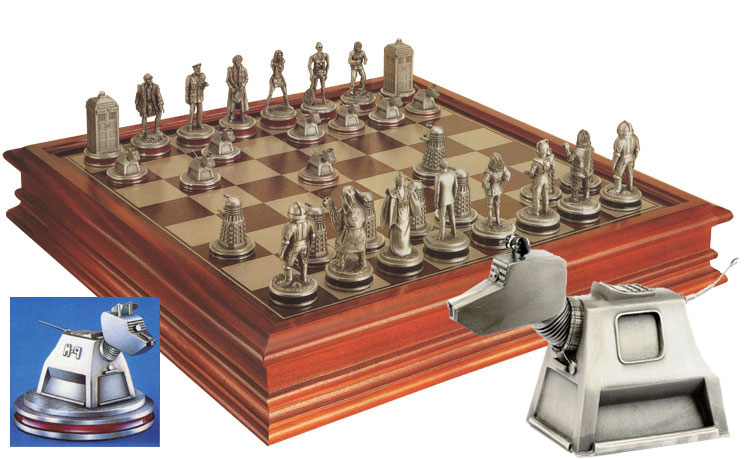 ---
Trading and Games cards
Over the years K9 has featured on many games and trading cards in including Topps, Battles in time, Alien armies and alien attax some of which you can see below…

---
BBV Audio adventures
In 1999 John Leeson and Lalla Ward featured in two BBV audio plays as K-9 and The Mistress (in reality Romana) set in an alternative universe. BBV had long used well known Characters from Doctor Who in their audio and video production. The first story was by Nigel Fairs.
Adventures in a pocket universe – The Choice: After successfully opposing slavery in the pocket universe of Erto-Spate, K9 and his Mistress are treated to a life of luxury as the revered guests of Emperor Lukor.
Adventures in a pocket universe – The Search: To maintain their vessel, The Mistress and K9 must locale a sustainable power source and Ecto-Space compatible technology – or lose the ability to time travel forever.
The second "Adventures in a Pocket Universe" BBV audio this time by Mark Duncan and again Starring Lalla Ward & John Leeson…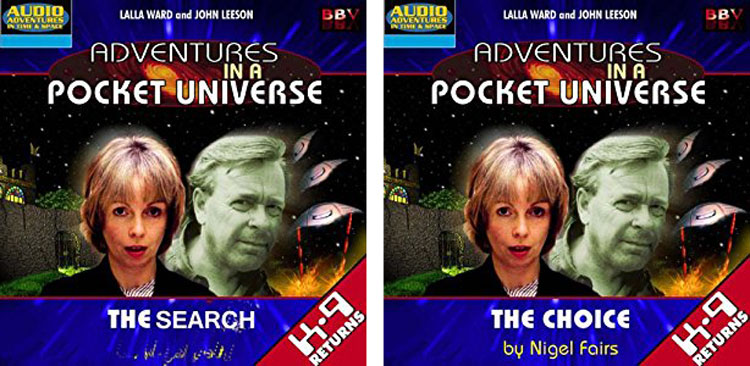 ---
Big Finish
K9 also features in numerous Big Finish stories inducing a series of audio stories entitled Gallifrey which also starred Lalla Ward (Romana) and Louise Jameson (Leela).
K9 is also in many 4th Doctor Adventures, Novel adaptations and monthly series.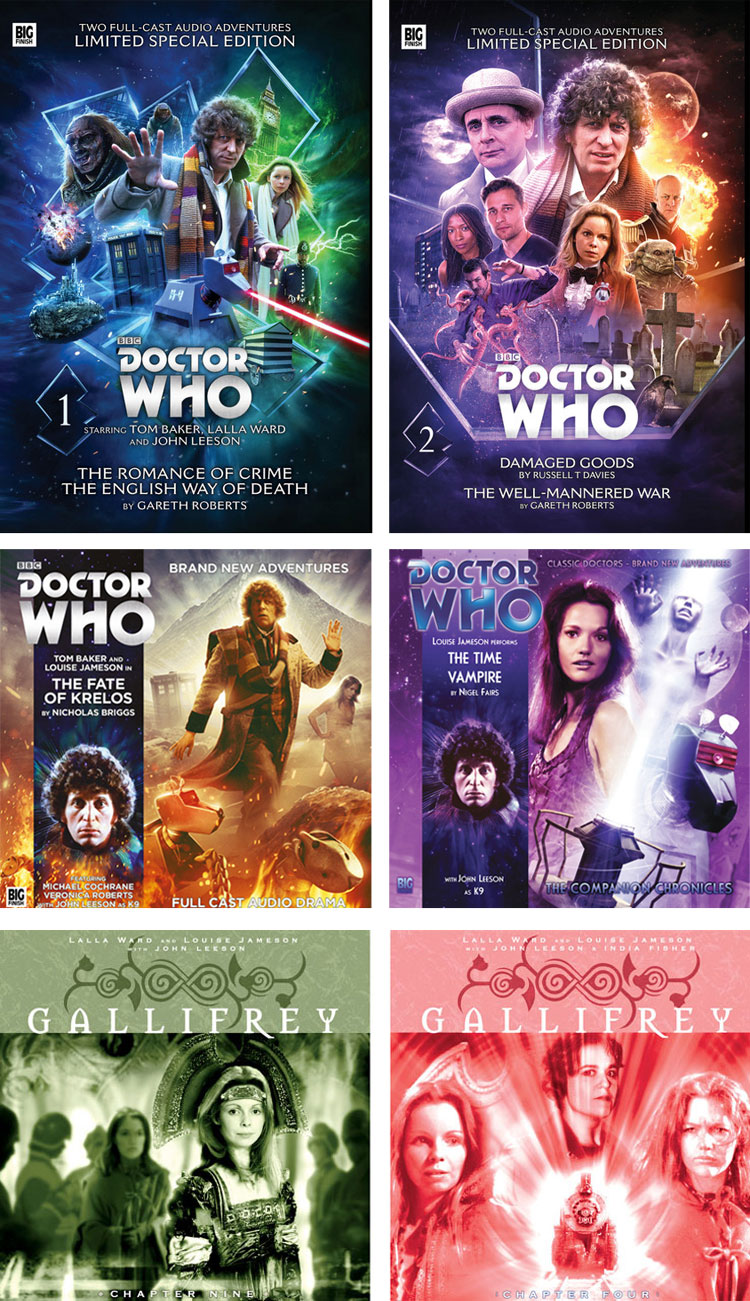 ---
The Royal Mint Medal
Two great British institutions, the BBC and the Royal Mint, have teamed up to create this amazing set of Doctor Who medals – the first time a TV character has featured on a Royal Mint medal.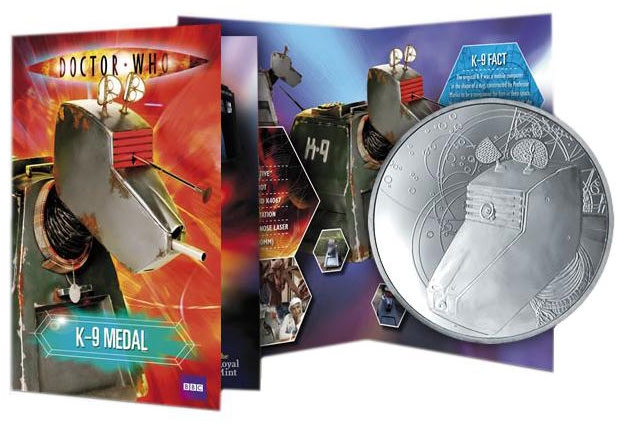 ---
Jigsaws
Jigsaws from The World of Doctor Who series featuring K9 and a Waddingtons jigsaw made from the original Andrew Skilleter/Russ French artwork of k9 ( shown centre below).
Just the images without the boarder or inlay write-up were used.

Like the key chain Marks and Spencer also sold a lenticular jigsaw set featuring K9 as part of their unique 50th Anniversary range.
This design was also released by GB posters as a framed print.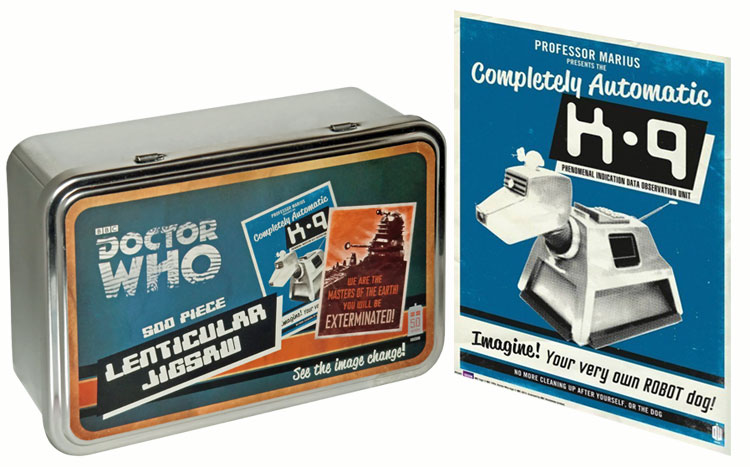 ---
K9 Novelty items
On the left is the K9 Supermag construction kit using magnets to hold the structure together, in the centre is a K9 Cookie Jar, now quite sought after and finally on the right a full size K9 standee.
Below these you can see the K9 slippers, Bif bang Pow Bobble Head and talking plush.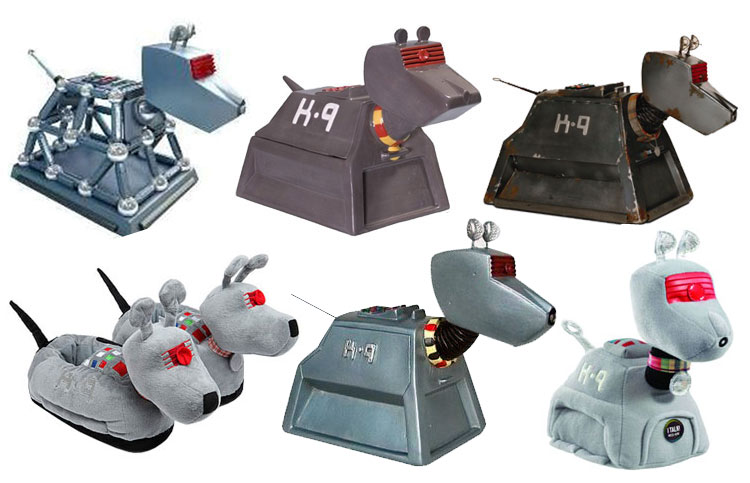 Marks and Spencer Keyring: Although several keyrings have been produced over the years one worth a mention here is the Marks and Spencer 50th anniversary keyring, part of a range in totally unique packaging. The K9 keyring is probably the nearest in scale to the 3.75″ figures.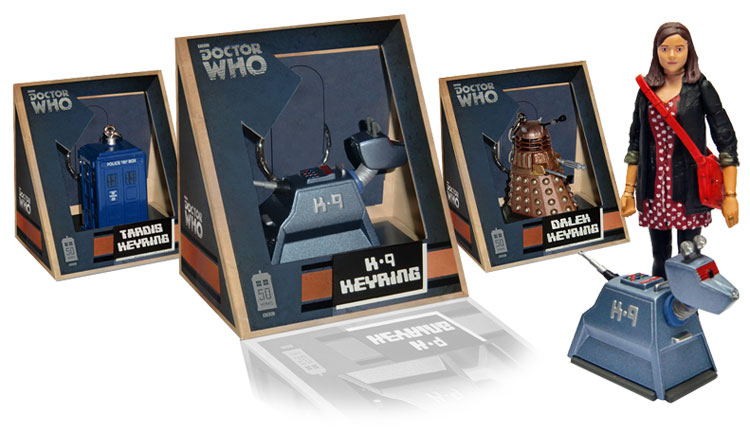 ---
Vending machine toys
Six further Doctor Who figures including K9 were released by Tarco International . Costing just £1, these figures were available from vending machines up and down the country at places such as Motorway service stations, cinemas, various high street retailers and supermarkets.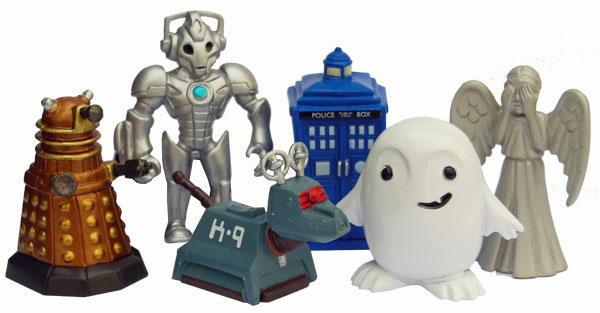 ---
Doctor Who K-9 Metal Earth Model Kits
Build the Doctor's trusted robot-dog with this Doctor Who K-9 Metal Earth Model Kit
! Use the easy-to-follow instructions included with the gold sheets to pop out the pieces, bend the tabs, and connect them at the attachment points.
The "rusty" K9 is a limited Edition originally supplied in the a Doctor Who Nerd Block.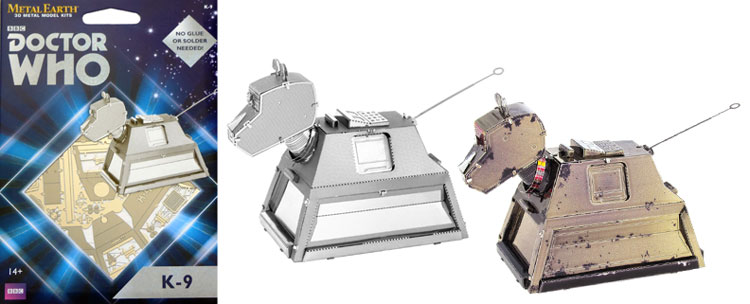 ---
Magazine and comics
Although not specific K9 merchandise he has graced the covers of many a magazine over the years some of which are shown below.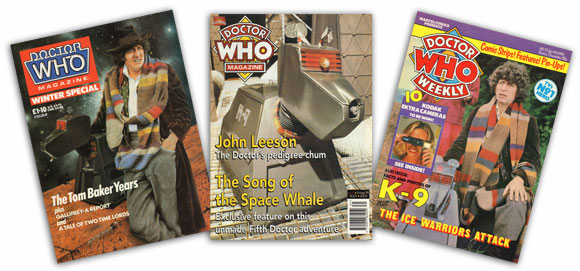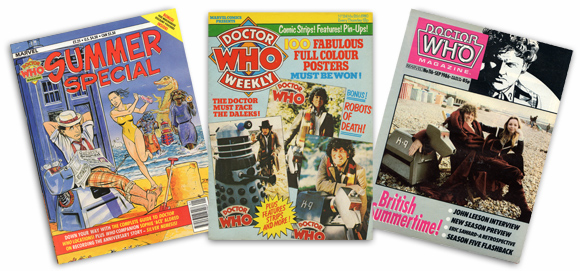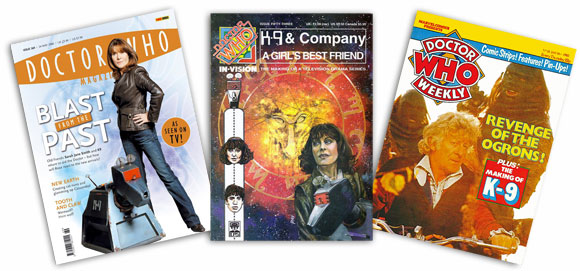 Posters
Scifi Collectors Tom Baker and K9 poster and The original Andrew Skilleter/Russ French artwork of k9 …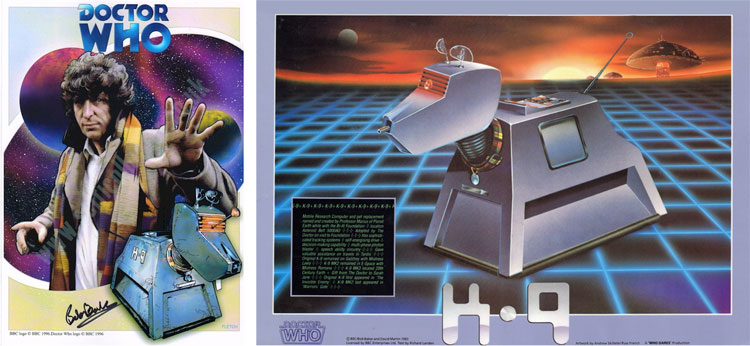 ---
K9 40th Anniversary Merchandise
A selection of 40th anniversary merchandise including mugs (sold out) posters and canvas prints are available from www.k9official.com

---
Other Merchandise
Danbury mint marketed an extensive pin badge collection
which included K9 (shown left). Pyramid international produce a K9 specific mug and coaster and on the right is seen the cover to the K9 and company theme tune vinyl single.

---
And Finally – All the K9's
The big picture of most K9 models made over the years.
Some of what's below…
Keyring
Micro universe
Product Enterprise
Titan (new)
Titan (Rusty)
5″ New
5″ Rusty
5″ Classic (B&M)
5″ remote control
1/4 scale Remote control (Toys r us classic)
Glass tree decoration
Dapol
Zeon smart phone operated
New series 4″
Denys Fisher
Click the image for the Big Version!