The Companion Chronicles 5.08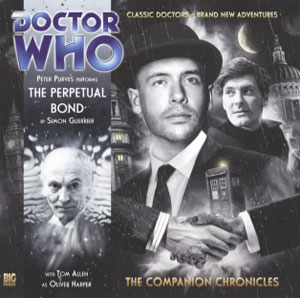 The Companion Chronicles 5.08 – The Perpetual Bond
When the TARDIS materializes in a familiar junkyard in the 1960s, the Doctor and Steven are soon embroiled in a mystery in the City of London.
Who are the mysterious bowler-hatted businessmen with their deadly umbrellas?
And what secret is young Oliver Harper desperately trying to conceal?
Contracts have been signed.
A deal is in place. And the Doctor discovers that perhaps not even he can stop a terrible business…
Peter Purves (Stephen Taylor), Tom Allen (Oliver Harper)
To Buy or Download This CD or to see full details on this and other Audio CD's and books go to the Big Finish Website Here