Sherlock Titans The Baker Street Collection
Titan Merchandise are very excited to announce the next in our vinyl figures range: The Baker Street Collection
Due September 2015

Available to order in the UK from www.forbiddenplanet.com

Also available to order in the UK as blind boxes or a full case from www.bbcshop.com

Available to order in the USA as blind boxes from www.entertainmentearth.com

Available to order in the USA as a full case from www.entertainmentearth.com
Based on the hit series starring Benedict Cumberbatch and Martin Freeman! Featuring 'Consulting Detective' Sherlock Holmes, his trusty companion Dr. John Watson as well as the manipulative James Moriarty, the mysterious Irene Adler
and many more!
Each figure is 3″ blind-boxed and some come with a character specific accessory.
PLUS: 4 hidden chase figures for you to hunt and collect!"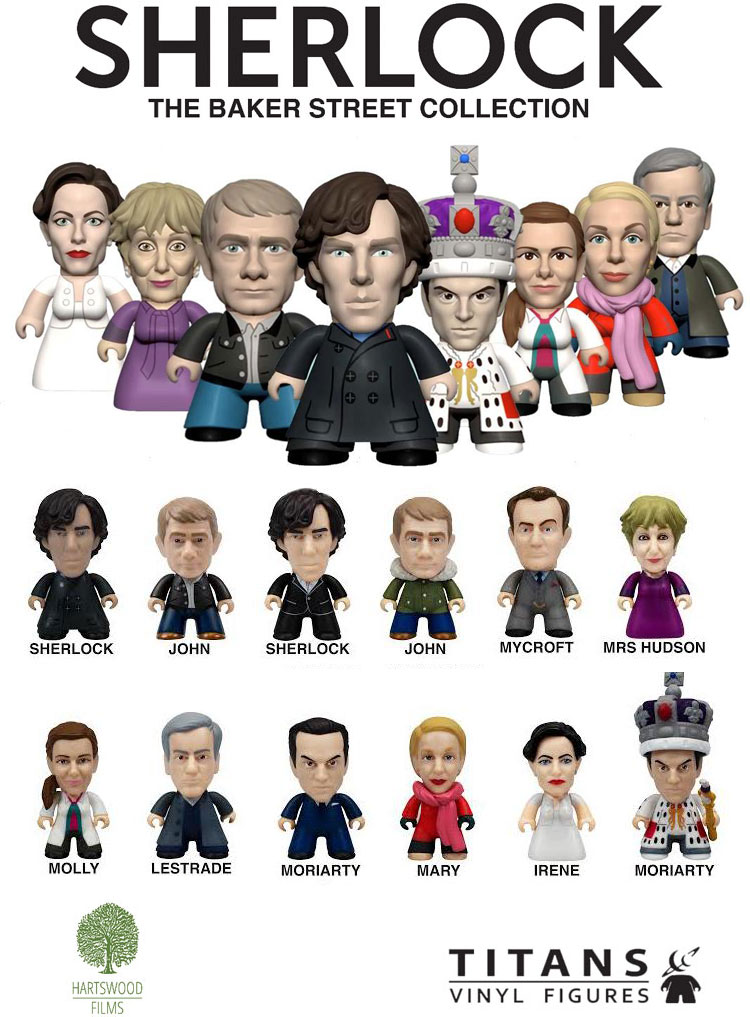 ---
Entertainment Earth Exclusive! Watson is getting married!

Available to order in the USA from www.entertainmentearth.com
"Consulting detective" Sherlock Holmes hopes to give the perfect best-man speech at the wedding of his trusty companion, Dr. John Watson, but murder may be afoot!
Based on the popular BBC series Sherlock starring Benedict Cumberbatch and Martin Freeman, these 3-inch tall mini-figures capture the duo dressed in their finest, as seen in the Season 3 episode "The Sign of Three."
This limited edition Sherlock Titans Sherlock and John Wedding Suit 3-Inch Vinyl Mini-Figures EE Exclusive comes in special Union Jack window-box packaging with a backdrop of famous 221B Baker Street inside that can be removed to create a diorama.
And you can't buy this 2-pack anywhere except Entertainment Earth!