Rubbertoe Doctor Who Confession Dial Closed Version
Available to order from www.rubbertoereplicas.com
"What's a confession dial?"
"In your terms, a will. This is the last will and testament of the Time Lord known as the Doctor."
As shown in the season opener, The Magician's Apprentice/The Witch's Familiar, the Doctor fears his own death, and so has created a 'Confession Dial' which when opened will reveal his greatest secret.
In 'Heaven Sent', the contents of the Confession Dial are finally revealed, as the Doctor becomes trapped in his own personal prison, inside his own Confession Dial.
Being stalked by the terrifying 'Veil', the Doctor is trapped for four billion years, endlessly repeating the same sequence of events and his own death, until, finally he punches through a wall ofAzbantium, the strongest material in the universe. He emerges from the Confession Dial into a desert landscape overlooking the Citadel on Gallifrey.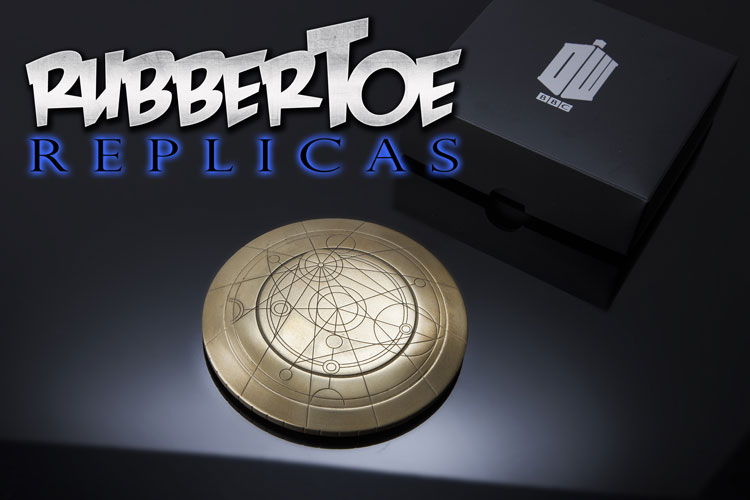 We are pleased to be able to offer you this CLOSED version of the Confession Dial (see our store to purchase the OPEN version of this this prop). The original prop was made right here in the Rubbertoe workshops, and, as you would expect from a Rubbertoe product, our replica is made in exactly the same way as the screen used version.
The closed version of the Confession Dial is cold cast from resin and brass, and then hand buffed and aged to a beautiful patina. It has a pleasing feel in-hand, and is a stunning piece both as a prop replica and a piece of decorative artwork in its own right
The dial comes with its own unique display stand.