Reeltime Pictures The Daemons of Devil's End DVD
Available to order from www.amazon.co.uk
You can also see books associated with this release at www.amazon.co.uk
This special DVD release contains two unique productions.
The first is the brand-new drama production WHITE WITCH OF DEVIL S END starring DAMARIS HAYMAN, who reprises her role as Olive Hawthorne from the DOCTOR WHO story THE DAEMONS. With a blend of dramatic monologue enhanced with visualisations and sound design to develop and tell the stories, the drama is an anthology of tales following the magical life of Olive Hawthorne, from childhood to her final days as the protector of Devil s End.
Drawing on a rich heritage and appreciation of witchcraft and fokelore, the stories bring Olive's history to life, pitting her against vampire, succubus, fae, daemonic influence and more – as Guardian of Devil's End, she must do what she must to protect the village … but what happens when she reaches the end of her life? Who will protect the townsfolk then?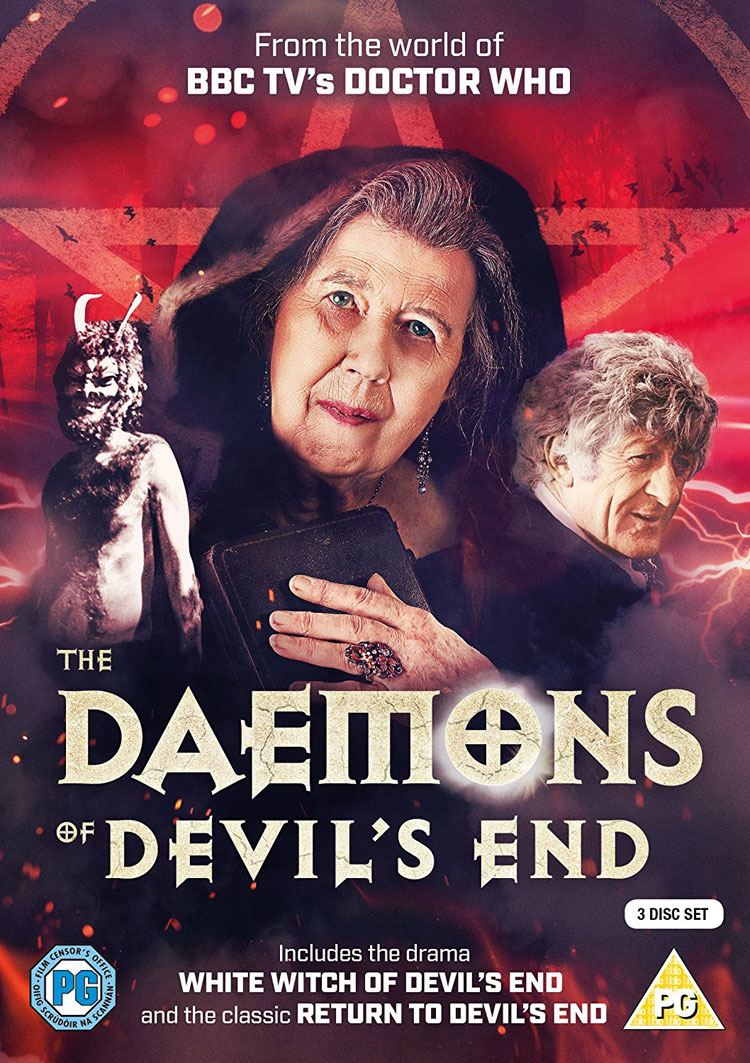 The second is the long-awaited DVD release of the classic documentary RETURN TO DEVIL S END . Filmed around the village of Aldbourne in 1992, this marvellous production stars JON PERTWEE (The Third Doctor), NICHOLAS COURTNEY (The Brigadier), RICHARD FRANKLIN (Capt. Yates), JOHN LEVENE (Sgt. Benton) and THE DAEMONS director, CHRISTOPHER BARRY. NICHOLAS BRIGGS (currently the voice of the Daleks in DOCTOR WHO), takes the cast and director on a trip around the locations, deftly gleaning stories and anecdotes about filming the classic DOCTOR WHO series in 1971.
Including interviews with villagers and rare archive film and photos … this documentary is rightly considered one of the best behind-the-scenes look at the making of DOCTOR WHO ever produced.
Both discs are packed with bonus features, making this a totally unique production!
PLUS! A third bonus disc containing video of conventions held in Aldbourne to celebrate one of Doctor Who's most fondly remembered stories.
Disc 1: White Witch of Devil s End – Drama, Weaving Magic – The Making of … ,The Scriveners – The writers tell their story, Linzi s Tune – Theme Music singer Linzi Gold Tells her story (inc. music video),
Disc 2: Return to Devil s End – Documentary, Recording the Return – Home video of the shoot, Reporting the White Witch – Damaris Hayman & David Simeon interview, Morris Men – A profile of the Headington Quarry Morris Dancers, who featured in The Daemons
Disc 3: The Daemons Revisited – Conventions at The Daemons location of Aldbourne village