Official Figurine Collection Magazine (Test Area) 05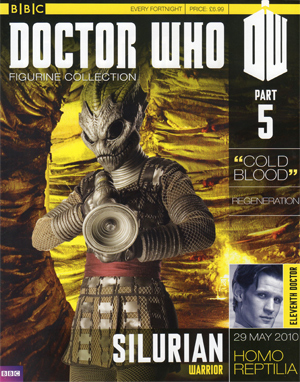 The Official Figurine Collection Magazine (Test Area) 045
Please note this is the final test issue.
The official figurine collector's magazine that explains how the character evolved. Plus get the inside story behind classic moments, explore 50 years of the series' history, learn the secrets of the Doctor Who universe and discover the answers to some impossible questions.
This magazine is currently only available in test areas before its national launch later in 2013. Subscriptions will also only be available in these areas at present.
Every issue of the magazine gives you essential information about the featured character and reveals the inside story of Doctor Who.
Your figurine…
Get up close and personal with your figurine, discover exactly why they look the way they do, uncover hidden details and learn how they have evolved over the years.
The moment…
Every figurine recreates a specific moment from a classic story. Go behind the scenes to get the inside story of how the production team brought it to your TV screen.
50 years of Doctor Who…
Get the whole story with this incredible timeline that takes you from Doctor Who's beginnings in 1963 to the latest episodes.
The Doctor Who universe…
An in-depth profile of an essential element of the Doctor Who universe including Time Lords, UNIT, Daleks, and much more.
PLUS Mysteries answered and the people who made Doctor Who happen
In This Issue…
Your Figurine – Silurian Warrior
How The Hungry Earth and Cold Blood brought back one of the most memorable 'monsters' in the history of Doctor Who.
How the look of the 21st-century Silurians built on the design of the original versions that appeared in the 1970s and 1980s.
Moment in time – Going Underground
How the production team created the subterranean world on a scale never seen before in Doctor Who.
50 Years of Doctor Who -1965
Highlights of the major moments in Doctor Who's impressive history.
Doctor Who Universe – Regeneration
Examining the one concept that's helped Doctor Who reach 50 years.
The big Ask – Your questions answered
Are Silurians evil? Why aren't there any in Earth's future? We find out…
The people who… William Hartnell
The original Doctor who set the standard for all others to follow