Monster Invasion Magazine Issue 35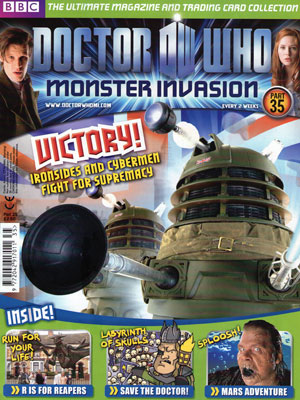 Monster Invasion Magazine Issue 35
Start collecting the awesome NEW Doctor Who Monster Invasion and build up a mega-monster magazine and cool trading card collection.
You can subscribe Here on the official site where you will find all you need to know about Monster Invasion magazine.
In This issue from BisonTime…
*Top 10 Alien Weaknesses
*Cassandra's Life-support Frame
*Ironsides V Damaged Cybermen
*The Waters of Mars
*Wheres The Doctor Seventh Transept
*R is For Reapers
Monster Invasion Time and Space Cards
Monster Invasion are releasing a set of 40 downloadable cards which you can print out and add to your collection. You can access these cards from your profile page on the Monster Invasion website.
The first batch are available now and will enable you to play the game in issue 33.
For those of you who cannot access Monster Invasion Time and Space Cards Set1 for some reason click Here.
For those of you who cannot download the cards click the images below then "save image" – you will then be able to print them out.
Looks out for the all new downloadable "Attack Cards" coming soon…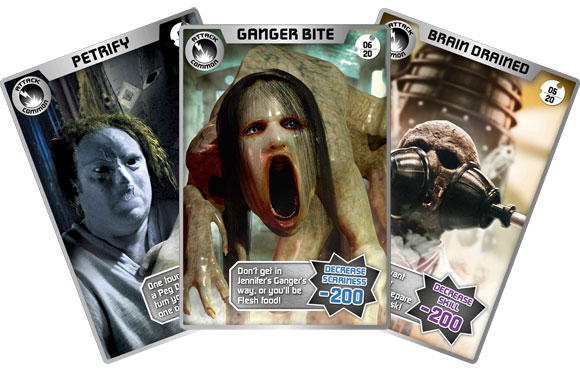 From Monster invasion magazine…
The current set of Doctor Who Monster Invasion cards has proved so popular, that we're launching a third exclusive set of cards called the Doctor Who Monster Invasion Ultimate collection.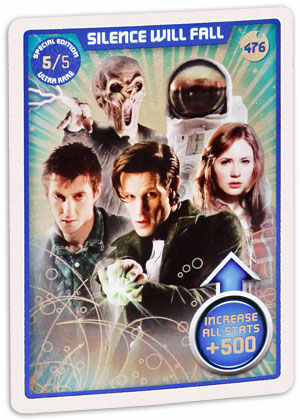 You will start receiving these fantastic cards from issue 32. The new set will total 126 cards including 4 special Preside cards that feature Rory and a Silent, Amy and a Weeping Angel, the Doctor and Supreme Dalek and the Doctor and the Doctor's Ganger.
PLUS as a subscriber you will be sent a fifth special edition Silence Will Fall card with issue 33!
There will be a specific pack of cards with each issue so you won't receive any duplicates and are guaranteed to complete the whole of the Ultimate collection if you continue to subscribe.
Each pack contains five rare cards and one ultra rare card. The new Ultimate collection cards are totally exclusive to Doctor Who Monster Invasion readers and will not be on sale separately in the shops! Your first pack of Ultimate collection cards – including the first special edition card – are enclosed with issue 32 of the magazine.
We hope you continue to enjoy Doctor Who Monster Invasion and collecting the new Ultimate trading cards.