Monster Invasion Magazine Issue 08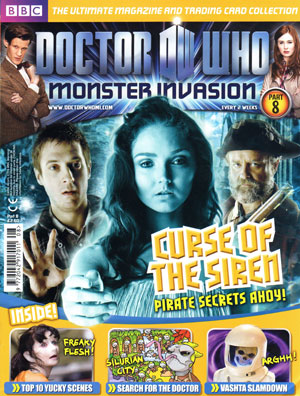 Monster Invasion Magazine Issue 08
Start collecting the awesome NEW Doctor Who Monster Invasion and build up a mega-monster magazine and cool trading card collection.
You can subscribe Here on the official site where you will find all you need to know about Monster Invasion magazine.
In This issue…
*Top 10 yuckiest scenes
*Vasta Nerada V Sun Possessed
*Sontaran clone pod
*Where's The Doctor – Silurian City
*The Curse of the black spot
*Quiz zone
*D is for Doctor and much more
You can also read all about Monster Invasion Magazine on the BBC Worldwide blog Here an exert of which you can read below.
There are 165 cards to collect in set one, including stinky scratch 'n' sniff cards, shiny foil cards, a moving lenticular and special augmented reality cards that allow you to see the Doctor, his TARDIS, and some of his most fearsome foes come to life on your hand in 3-D.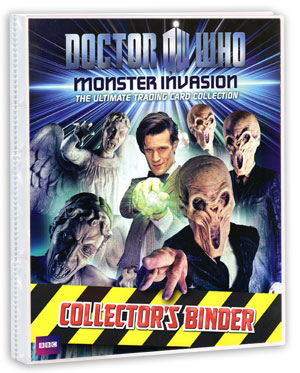 Seeing a 3-D Dalek levitate off your hand for the first time is something you'll never forget, I guarantee!
Hopefully by now you will have caught our TV ad, just one part of a large-scale media and sampling campaign that is accompanying the DWMI launch, with support from all major grocers.
There are 52 fortnightly issues to collect. Part 1 is £1.50, thereafter it's £2.60 though you can also buy the card packs separately at retail at £1.50 per pack of nine cards. Also don't miss our collector tins, which contain a special edition mystery card!
My team is already working on set two, which features 180 new cards to tie in with the second half of series 6 of Doctor Who, broadcasting in the autumn. But for now, as the Doctor would say, Geronimo!
Will you be buying Monster Invasion Magazine?…