Hero Collector Unveils New Doctor Who Companion Sets
Hero Collector Unveils New Doctor Who Companion Sets!
"Fear Makes Companions Of Us All"
Hero Collector – designers, manufacturers, and publishers of high-quality collectibles from across the worlds of pop culture – unveils something old and something new, with two new Doctor Who Companion Sets featuring a cast of beloved TARDIS travelers separated by 55 years!
Each set contains four figurines – an incarnation of The Doctor alongside their three companions –perfectly rendered in hand-painted polyresin at 1:21 scale (approximately 3.5 inches tall). They also come with a "companion" magazine, packed with details behind each character's time in the TARDIS – including interviews, photographs, and a look back at some of their best-loved stories.
The First Doctor (William Hartnell) arrived on screen in 1963, when teachers Barbara Wright (Jacqueline Hill) and Ian Chesterton (William Russell)followed their mysterious pupil Susan (Carole Ann Ford) home. They soon discovered that she and her grandfather were alien time travelers living inside a police box – which led to all four setting off on adventures through space and time together!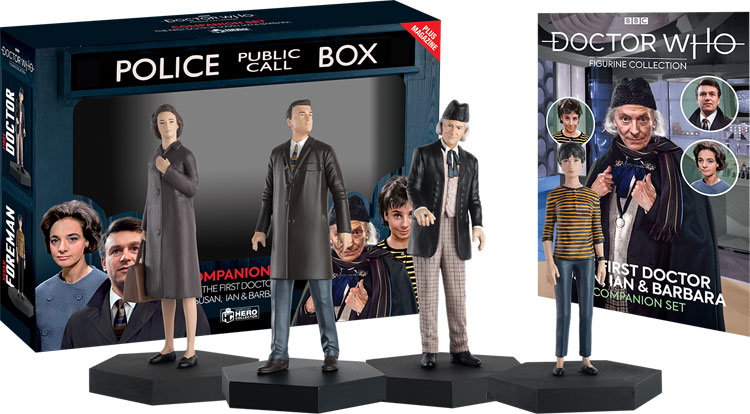 The Thirteenth Doctor (Jodie Whittaker) crash-landed in Sheffield in 2018. Teaming up with trainee engineer Ryan Sinclair (Tosin Cole), former bus driver Graham O'Brien (Bradley Walsh), and probationary police officer Yasmin Khan (Mandip Gill), she defeated a tooth-stealing alien warlord and made her way back to the TARDIS – complete with new friends in tow!
The Thirteenth Doctor Companion Set will be available direct from shop.eaglemoss or your favourite retailer in January 2020, with the First Doctor Companion Set following soon after in February 2020. They join Hero Collector's ongoing line of 1:21 Doctor Who figurines, which explores aliens, monsters, robots, humans and Doctors from over five decades of classic science fiction TV.
Fans and collectors should stay tuned for further details about Hero Collector's Doctor Who box sets, including Daleks, Time Lords, and even more companions!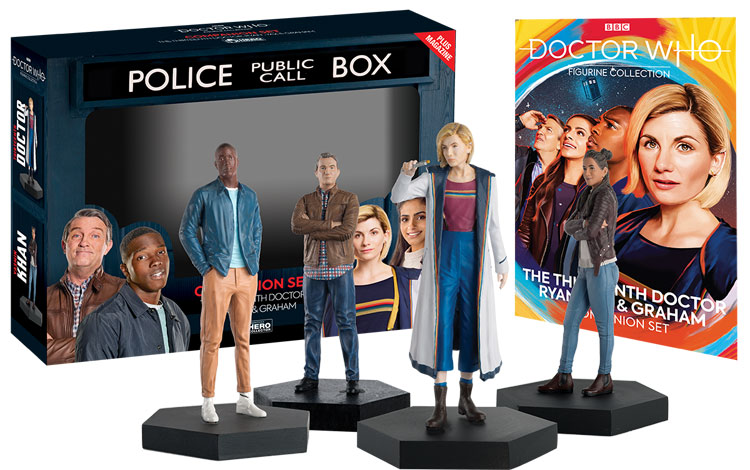 —