Hallmark 4th Doctor and Tardis Keepsake Tree Ornaments
Please note we will update post when we find out how and when you can order these.
From www.thedigitaldreambook.com
"We are extremely excited to bring Doctor Who to Keepsake Ornaments, from the British program adored by science fiction fans around the globe. Our TARDIS magic Ornament plays a clip from the theme music, as well as its iconic TARDIS song, while white lights, pulse in the window and the rooftop light illuminates!"
Press the button on the ornament to see it illuminate and hear the TARDIS come to life. Press the button again to hear music from the Doctor Who theme song.
Battery-operated (included).
Due for release later in the year, 4th Doctor $19.99 1.78″ w. x 4.59″ h. x 2.14″ d, Tardis $24.99 Dimensions: 2.5″ w. x 4.6″ h. x 2.5″ d.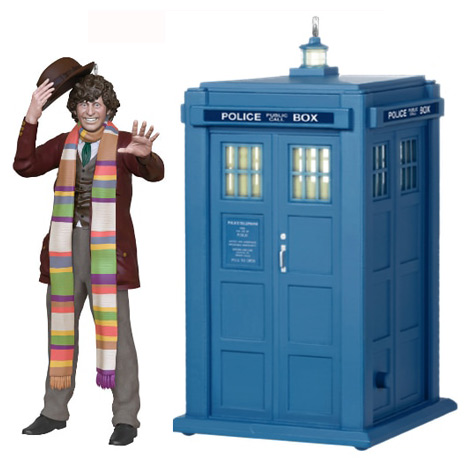 Image Not to scale