Fans Enjoy Celebratory Screening of Peter Cushing's Dr Who Movies
Available to order from Amazon:
Doctor Who and the Daleks 4k Collectors Edition
Daleks' Invasion Earth 2150 A.D. 4K Collectors Edition
Doctor Who and the Daleks 4k steelbook
Daleks' Invasion Earth 2150 A.D. 4K Steelbook
---
Roberta Tovey and Jill Curzon Attend The BFI Screening of 'Dr Who and The Daleks
Stars Roberta Tovey and Jill Curzon made guest appearances
Tovey recalled a fond memory of being paid extra to complete scenes in one take
Screenwriter's family surprised fans with script of unmade third film
To celebrate the upcoming 4k theatrical and home entertainment re-releases of the two Peter Cushing movies, 'Dr Who and Daleks' and 'Daleks Invasion Earth 2150 AD', STUDIOCANAL and the British Film Institute hosted a special double-bill preview screening for fans and press with stars Roberta Tovey and Jill Curzon in attendance.
Alongside the films' assistant director Anthony Waye (Star Wars, Casino Royale), Curzon and Tovey took part in an exclusive Q&A in which they discussed their work on the films.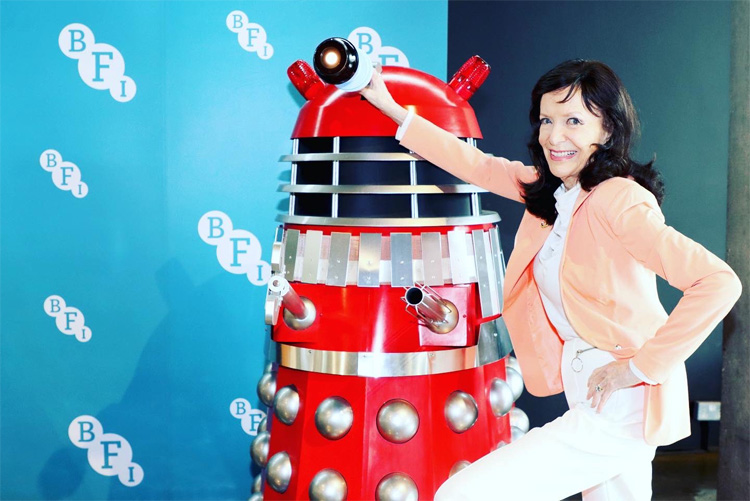 Tovey recalled a fond memory of director Gordon Flemyng and how he provided financial incentives on set to get a scene done in one take: According to Tovey, Flemyng had said: "For every take you do, if you do it in one shot, I will give you a shilling". Tovey goes on to say: "On the last day…he got out this suede pouch and on it he'd written 'To One Take Tovey, Love Gordon' and inside were 21 shillings".
http://
Also in attendance were Sergei and Dmitri Subotsky, the sons of the films' screenwriter Milton Subotsky and who presented some letters from their father's archive's including some correspondence regarding a dalek stunt at the Cannes Film Festival.
Reading out the letter regarding the preparation of the stunt from a film distribution agent Mr Subotsky quotes: "We have very high hopes for the publicity which will be obtained by the Dalek Invasion of Cannes…and should of course provide journalists with something really out of the ordinary to write about in the papers". Fans were also wowed when the scriptwriter's relatives showed the audience a physical script for a third film that was never made.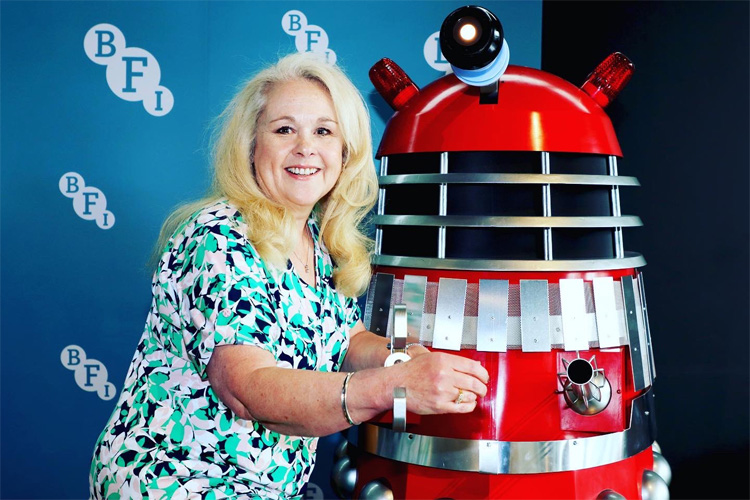 Released initially in 1965 and 1966 respectively and directed by Gordon Flemyng, these two films, shot in glorious Technicolor, have been regenerated in out-of-this-world 4K and are the perfect collector's item for Doctor Who and sci-fi fans. The films, which are to date the only big-screen outings for the Doctor, also boast a beloved supporting cast including Bernard Cribbins, Roberta Tovey, Roy Castle and Jennie Linden.
DR. WHO & THE DALEKS (1965) was the first big screen film adaptation of British TV's most iconic sci-fi hero, and the first time Doctor Who was ever seen in colour. Having invented the TARDIS, a strange machine capable of travelling into other dimensions, the Doctor and his three young accomplices set forth on a quest through time and space.
Their journey takes them into the dark, undiscovered depths of the universe and to the planet of Skaro, a primitive world devastated by nuclear war and populated by two warring species, a peaceful tribe known as Thals and a life form heavily mutated by radiation, encased in protective machines, a merciless force of destruction known as The Daleks!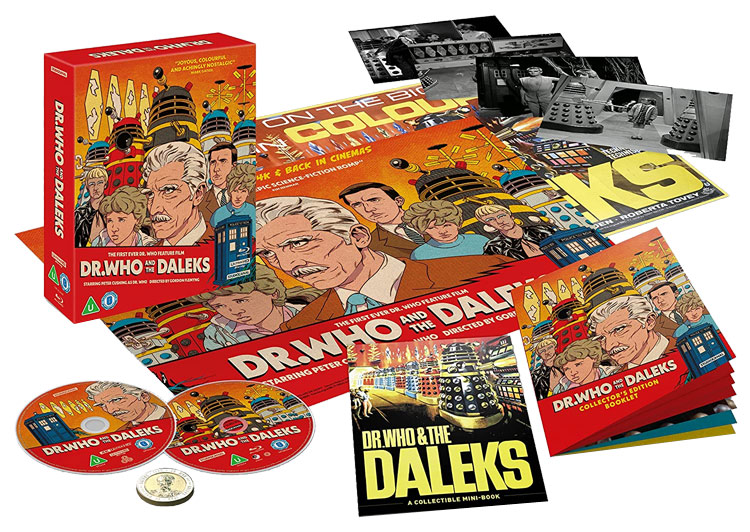 The second film, DALEKS' INVASION EARTH 2150 A.D sees Cushing return to the big screen – the future of Planet Earth now belongs to The Daleks, but deep within the London Underground a group of resistance freedom fighters are planning an attack. Can The Doctor help them succeed in destroying their extra-terrestrial enemies and take back control of Earth?
DR. WHO AND THE DALEKS and DALEKS' INVASION EARTH 2150 A.D. will be released as a double bill in over 200 UK cinemas on 10th July and available as 4K UHD Collector's Editions, steelbooks and digital on June 20th and 18th July respectively.