Doctor Who Time of The Doctor 5″ Action Figure Set
Doctor Who Time of The Doctor 5″ Figure Set
Doctor Who Exclusive – The Time of the Doctor 11th Doctor & 12th Doctor head
Available to order in the UK from www.forbiddenplanet.co.uk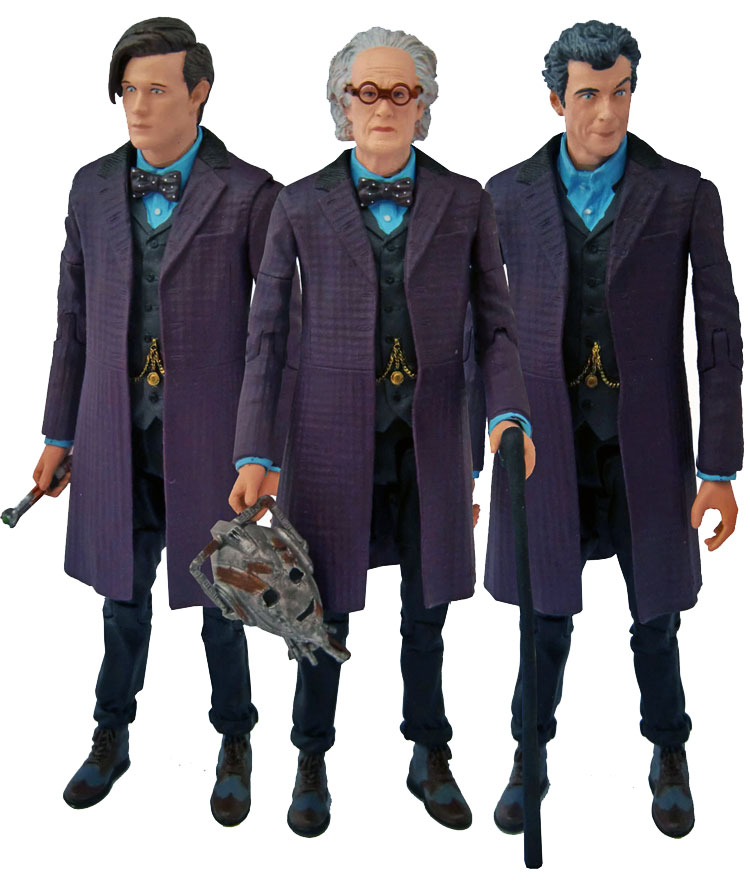 Eleventh Doctor in his iconic final season long frock coat
Twelfth Doctor regenerated head
Aged Eleventh Doctor head
2 swappable shirt/chest pieces
walking cane
Sonic Screwdriver
Handles accessory
Orbiting a quiet backwater planet, the massed forces of the universe's deadliest species gather, drawn to a mysterious message that echoes out to the stars. When the signal is finally revealed as the Time Lords waiting to enter into the Universe once more, the Doctor sees no choice to to defend the planet from the massed forces of his enemies. Presented here is the eleventh Doctor in his iconic final long frock coat.
Presented here is the Eleventh Doctor in his iconic final season long frock coat. The set comes with a Twelfth Doctor regenerated head plus young and 'aged' Eleventh Doctor heads with 2 swappable shirt/chest pieces. It also includes 1 x walking cane, 1 x Sonic Screwdriver and 1 x 'Handles' accessories.
The set is presented in a TARDIS inspired gift box with opening front panels to reveal episode information and display your collector figure.