Doctor Who The Monster Collection The Master DVD
Doctor Who The Monster Collection DVD
Note the original images sent by the BBC were drafts.The final covers are now shown.
Correct covers with thanks to TheMindRobber
These six real 'hide behind the sofa' collections bring together episodes of the scariest and most iconic monsters from Doctor Who's classic and recent series.
Each title concentrates on a deadly enemy – The Daleks, Cybermen, Sontarans, The Master, Davros and the Silurians – and features two separate stories from popular incarnations of the Doctor, including Matt Smith, David Tennant, Tom Baker and Jon Pertwee. These collections are perfect for younger viewers just discovering the scary delights of fifty years of Doctor Who.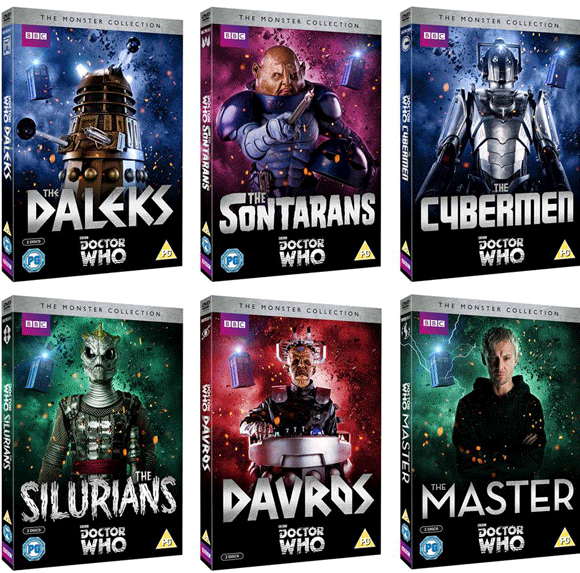 The Monster Collection: The Master

Terror of the Autons (1971)
The Master arrives on Earth at a circus run by a man named Rossini and steals a dormant Nestene energy unit from a museum. He reactivates it using a radio telescope and uses his hypnotic abilities to take control of a small plastics firm. Starring Jon Pertwee as the Third Doctor.
 
The End of Time Parts 1 and 2 (2009-10)
With almost everyone on Earth now recast in his image, The Master controls the world. He's shocked however when he realizes that one person hasn't changed… Starring David Tennant as the Tenth Doctor