Doctor Who The Complete Series 7 Steelbook
Available to order from www.amazon.co.uk and www.zoom.co.uk
Matt Smith returns for his third series as the Eleventh Doctor. Fourteen big, blockbuster-movie episodes – each a brand new epic adventure featuring new monsters and some familiar foes as you've never seen them before. The first part of this series sees the Ponds (Karen Gillan and Arthur Darvill) return for their final voyage with The Doctor.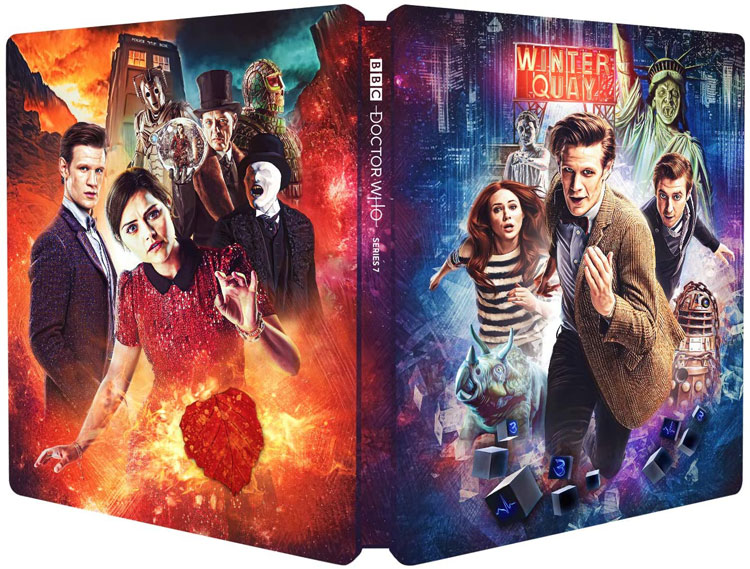 They save a spaceship full of dinosaurs, don Stetsons in the Wild Wild West and are even kidnapped by the Doctor's oldest foe. But when they arrive in Manhattan the Weeping Angels are waiting for them – will The Doctor really lose Amy and Rory forever? Christmas brings The Doctor a new friend but how, where and when will he meet her?
LIMITED EDITION STEELBOOK WITH BESPOKE ILLUSTRATED ARTWORK.
INCLUDES:
6 X PREQUELS
15 X BEHIND THE SCENES
4 X COMMENTARIES
3 X ADDITIONAL SCENES
3 X DOCUMENTARIES
3 X EXCLUSIVE CONTENT
SCRIPT TO SCREEN: GOOD AS GOLD
THE MAKING OF THE GUNSLINGER
POND LIFE
COMIC CON